Remember back to the beginning of the year when 10-year U.S. Treasury bond yields had dipped below 2% for the first time since the late 1970s and it seemed yields could sink no lower? Today that 2% yield seems generous.
Ten-year yields dipped below 1.5% today. At 1.49%, the yields are closing fast on the all-time record low of 1.467%.
Other Treasury bonds are also falling to record lows. 30-year bond-yields dipped to 2.58%, just a few ticks above the 2.54% low set last month. Five-year notes are yielding just 0.64%, also nearing a new record.
Why are yields reaching historically low levels? Because so many investors are flocking to U.S. Treasuries as a safe haven amid all the financial turmoil in Europe. Yields move inversely to the price of bonds, and U.S. bond prices have risen for six straight days.
Yields tied to the U.S. government in general are miniscule these days. The Federal Reserve has been steadfast in its determination to keep interest rates near zero through late 2014. That means that CDs, money-market accounts — and U.S. Treasuries – are all yielding at laughably low levels.
Take a look at the following chart tracking 10-year yields over the past 20 years: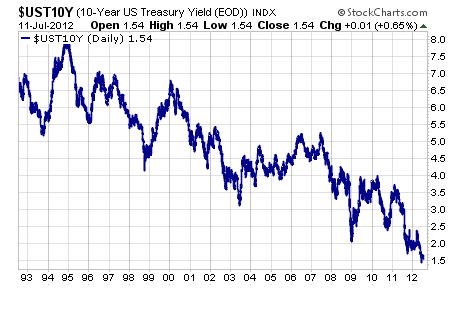 Only in the midst of the recession, in early 2009, did 10-year yields even come close to dipping to the 2% and below level that we've seen since late 2011. Ten-year yields touched 4% little more than two years ago.
The 30-year yield chart looks about the same: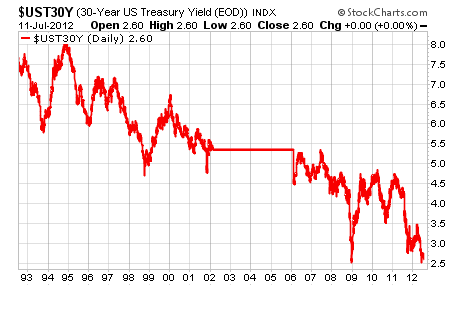 So what does this tell us? With U.S. Treasury yields falling faster than Tom Cruise's reputation, the best bet for income investors in search of yield is – and should remain for some time – dividend stocks.