Two months ago, I wrote that gold had "reached a multi-year crossroad." At $1,695 an ounce, gold prices were bumping up against a technical support level below which they had only dropped once over the past seven years.
Here's what that looked like: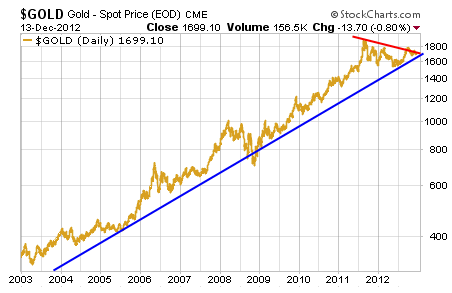 Within days – hours perhaps – gold dropped below that technical support line. The yellow metal has been on a steady decline ever since.
Now it's up against another ominous indicator.
With prices dipping below $1,600 an ounce for the first time since early August today, a so-called "Gold Death Cross" has formed. A death cross occurs when the 50-day moving average sinks below – or crosses over – the 200-day moving average.
That's what's about to happen with gold. Take a look: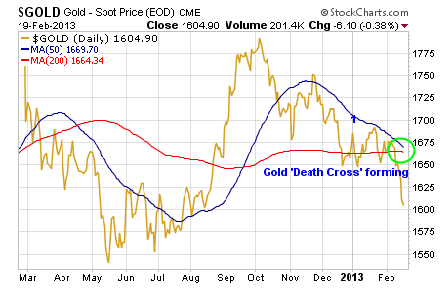 For those who believe in technical indicators, the 'death cross' is a strong bearish signal. It suggests that this current gold slump – with prices falling more than 12% since early October – may not be over yet.
Given that gold has plummeted more than $100 an ounce since breaking below a different technical indicator in December, the 'Death Cross' may be just as ominous as it sounds if you're a gold investor.