Homeowners Choice (NYSE: HCI) was quietly one of last year's top performers. Now the stock has pulled back to an important support level, providing another entry to this great company.
As the chart below shows, Homeowners Choice has made quite the climb. The shares increased from around $8 to as high as $26 in 2012. Based on that price appreciation, investors may have believed this is a high-flying growth stock like Trulia (NASDAQ: TRLA).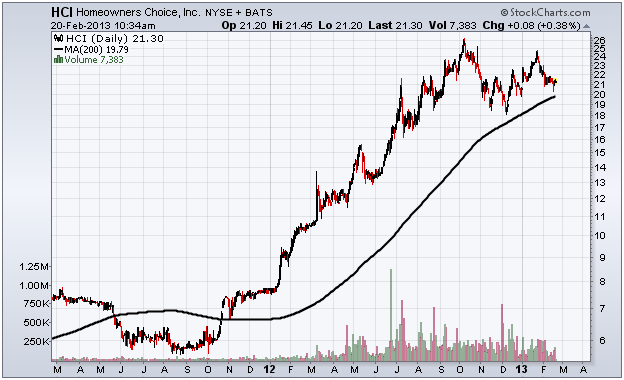 This chart shows the price of HCI shares along with an important trend line level to monitor.
Though the shares have had a wild ride, the company is actually fairly conservative. In fact, keeping risk low is their business. That's because HCI is an insurance holding company, providing property and casualty insurance in Florida.
Revenues leapt 40% to $94.8 million in 2011 from $68.6 million in 2010. Analysts expect sales to climb 58% in 2012. Moreover, the EPS trend is just as bullish. HCI reported $1.34 EPS in 2011, and analysts expect it to increase to $2.49 and $3.07 during the next two years.
At a $21.25 stock price, the shares trade at only seven times 2013 EPS projections. For perspective, the average P/E ratio in the industry is 21 while the average price to book is 1.7. HCI's ratios are 9 and 2, respectively. So the low P/E ratio compensates investors for the slightly higher book valuation.
Looking again at the chart, the stock is nearing a potentially strong trend line. The 200-day moving average (black line) often provides support to stocks in upward trends. Given the rise from 2011, there's no doubt this stock is in an upward trend. And I'd expect the 200-day moving average to provide support.
The average price target is $28, which seems low. The shares would have a P/E ratio of nine were the stock to rise to that level during the next several months. Though I believe the stock can go higher than $28, the short-term appeal is a buying opportunity at the 200-day moving average.
Equities mentioned in this article: HCI, TRLA
Positions held in companies mentioned above: