A month ago, I told you why I thought gold would gain 9% by December. It might happen by the end of this week.
Gold prices are skyrocketing right now. On August 14, the day I wrote that I thought the yellow metal was about to go on a major run, gold prices checked in at a tad over $1,600 an ounce. As I write this now, the price has already shot up to $1,732 an ounce – an increase of about 8% in less than a month.
I'm not trying to toot my own horn as a gold-price prognosticator. My theory that gold was about to go on a major run had little to do with my own investment instincts and everything to do with what the historical charts were telling me.
Since 1981, gold's biggest returns have almost always occurred from September through November. Average gains for gold prices in September have been 2.2% – best of any month. Average gains in November have been 1.8%.
This year, the rally started much earlier.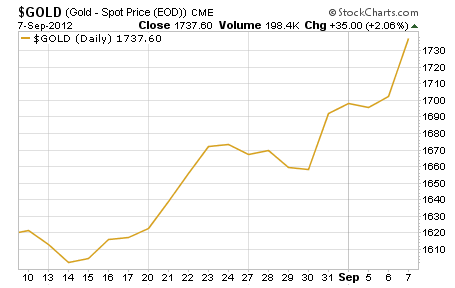 As you can see from the above chart, gold started making its move around August 20. In fact, gold prices shot up 6% before the calendar even turned to September. This is the longest stretch of gains for gold since the beginning of the year.
With pressure mounting on the dollar, the latest gold rally might just be getting started.
When interest rates are close to zero – a level the Federal Reserve has vowed to maintain for another two years – it weakens the dollar, effectively eliminating the impact of inflation. Since gold typically moves in the opposite direction of the dollar, a weak dollar translates to rising gold prices.
And with a third round of quantitative easing – a Federal bond-buying program designed to stimulate economic growth – possibly looming, the dollar could grow weaker still. Gold prices have more than doubled since the first round of quantitative easing was implemented in late 2008. Another round of easing would likely push gold even higher.
In other words, even with gold up 8% in less than a month, the rally is likely far from over. Gold prices should remain on the upswing – as they usually are this time of year.