I ALWAYS get in trouble when I write about today's topic. I fully anticipate being forced to sit through a meeting about "staying focused on commodity investments."
But I don't care. Today's topic is so important – and so much fun to write about that I'll gladly sit through remedial meetings if I have to.
I'm talking about guns! I personally own a Sturm and Ruger (NYSE: RGR) .357 Blackhawk revolver – just like the one pictured below: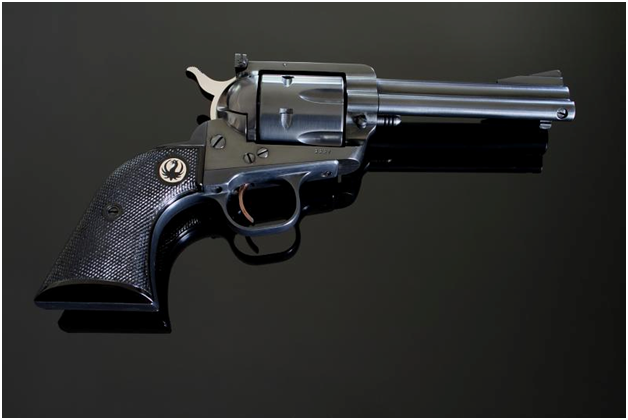 And hey, if you're not interested in guns, or you only read this letter for investing information, take a quick look at this chart showing the huge surge in gun sales leading up to the 2008 presidential election: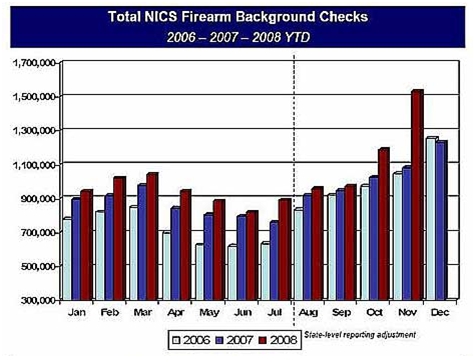 We see from this chart that gun sales in the last presidential election cycle were higher than the previous two years – and much, much higher in November.
At the very least, these kinds of sales numbers should draw your attention to the very limited number of publicly traded gun manufacturers.
I'll draw your attention to two American gun manufacturers: Ruger (which I prefer) and Smith and Wesson (Nasdaq: SWHC).
Both of these companies are selling record numbers of guns this year. And while Ruger has been my favorite publicly traded gun company, Smith and Wesson has really outperformed this year – more than doubling in price since January 1 from under $5 a share to over $10 today.
Even more impressive, they grew their earnings per share back to decade highs, after being in the negative for much of the past five years.
For safety, I still prefer Ruger – the company seems to do little else but sell lots of guns and grow its earnings.
And as a personal note, I prefer Ruger's products to S&W's lineup. There's a saying that revolver aficionados throw around that goes something like, "Buy a new Ruger, buy an old Smith and Wesson, and borrow a Colt."
The implication being that, for production guns, new Rugers are the best and most reliable – but that older Smith and Wessons are nice, and Colts, while very good guns, are expensive and tend to break easily.
If you're looking for a quick trade, I'd consider buying shares of both these companies, and dumping them after the election. Could be an easy way to make 10-20% in the next few months.
If you're looking for a great long-term investment, wait until after the election, and be patient for a more attractive price point.
Fill up your car for free 
Here's something you don't see every day – the US Government actually doing something good for citizens. You may not know this, but there's a special government program that forces certain oil companies to pay average Americans to help reduce the costs of fuel. It's a form of gas rebate, paid exclusively by a select group of companies. And these payments mandated by the US Government. Find out if you're eligible for the next payout – which could be up to $310. Click here to start receiving Gas Rebate checks.