The value of the U.S. dollar has been rising at an alarmingly rapid rate – an unsustainable rate, really. And history reminds us of that.
Since early September, the dollar has escalated 12%, with the U.S. dollar index ballooning from 74 to just under 83 as of this morning. Twelve-percent moves in the dollar usually don't happen in a year, much less nine months. Only three times in the past decade has the dollar made such a sharp upturn in such a short time span.
The first occurrence was in 2005, when the value of the dollar steadily increased throughout the year, gaining 13% by the time 2006 rolled around. In 2008, the dollar made even sharper gains, rising a whopping 22% in a matter of just five months. Then, from late 2009 to mid-2010, the dollar gained 19% in seven months as the U.S. currency began its post-recession recovery.
And all three times the dollar rose so fast, it came crashing back to earth with even greater speed. Take a look at the 10-year chart below: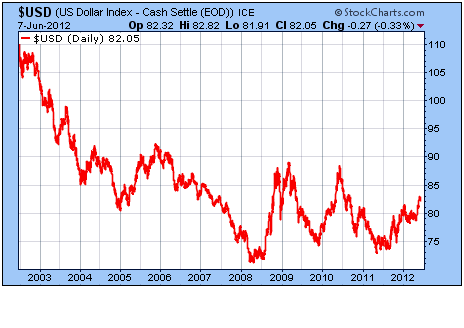 As you can see, the dollar never stays up for long if it rises too fast. And that means that another precipitous fall is imminent. In fact, as our regular Resource Prospector Kevin McElroy wrote last week, "The End of the Dollar Has Already Begun." Superpowers China and Japan will start to abandon the dollar in its overseas trade, instead conducting business in their native yuan and yen. With the world's third- and fifth-largest economies abandoning ship, perhaps other global powers will soon follow.
So as history and recent developments tell us, the dollar is due for a major pullback. And for gold bugs, that's good news. Take a look at how the price of gold has performed versus the U.S. dollar over the last nine-plus months: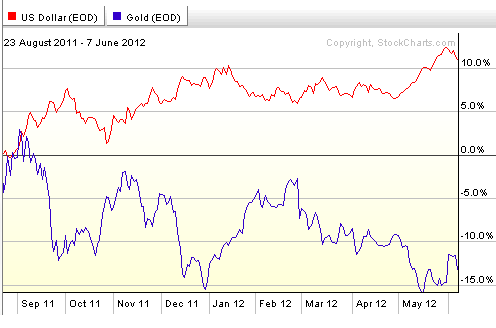 Every time the dollar has made a big move, gold prices have gone in the opposite direction. In May, as the dollar made a sharp upturn, gold fell off a cliff. At $1585 an ounce, gold remains cheap – 19% lower than its 52-week high of close to $1900 an ounce. Though it's risen a bit from its mid-May low of under $1550 an ounce, gold appears to be an excellent value play at the moment – especially now that the dollar looks like it's ready to plummet.
For gold investors looking to add to their positions, the time has rarely been better.