Ron Paul's bid to become the next U.S. President in 2012 probably hasn't been as successful as his stock portfolio, which likely provided him with incredible returns this month. Paul has blasted the Fed and their inflationary monetary policy (quantitative easing) over the past four years. Accordingly, Ron Paul amassed a portfolio of mining companies.
One of his favorite mining companies is MAG Silver (AMEX: MVG), which increased 75% from a December low before consolidating in March. The shares retreated 30% while silver prices declined in May. However, this pullback appears to have ended.
The shares have found solid support at $7 (blue arrows), an area silver stock-loving investors have protected for over a year. Perhaps Ron Paul was a buyer at that level.
The stock has formidable resistance just below $10 (blue line). However, with silver starting to rebound, I expect MVG will break beyond this area of selling pressure.
A breakout past $10 would result in a $13 price target. Long-term investors should wait for a pullback to $8.25, while traders should wait for a breakout past $9.85. Whether you are an investor like Paul or a trader, as I am, MVG looks ready to reward owners.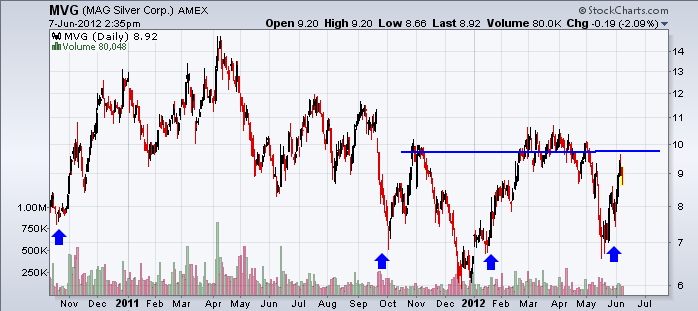 Equities mentioned in this article: MVG