Just as many individuals and institutions prefer to own silver instead of cash, some silver miners are choosing to hold onto their silver.
A few successful mid-tier silver miners, such as Endeavour Silver (NYSE: EXK), have recently been hoarding silver because they believe the price is too deflated. Even before yesterday's statement from the Fed to keep interest rates low through 2014, the discounted price of silver was fairly evident.
Instead of selling at low prices, these companies are deciding to hold on for a better future price. This is a smart move.
Think about it – if you owned nearly a million ounces of silver and buyers would offer only $28 per ounce, would you sell?
I wouldn't. After all, silver is as good as cash … and in some ways, even better.
The underlying implications go far beyond just cash now or cash later. Silver, like gold, is often owned by investors as a store of wealth to offset the decreasing purchasing power of currencies like the U.S. dollar.
A miner's best interest, and that of its shareholders, is served by getting the best return on capital. A 20% higher selling price will go a long way to fund future projects.
Provided the company has cash available to cover mid-term operating expenses, it really doesn't need loads of cash on the balance sheet. Holding physical silver inventory is far better.
In the fourth quarter, Endeavour made a sizeable bet on higher future silver prices by holding onto millions of dollars worth of silver and gold. From their fourth quarter production press release:
"…As a result, the Company sold only 400,000 oz silver and 4,000 oz gold in Q4, 2011 and metal inventories rose to 812,000 silver oz and 3,000 gold oz in bullion and another 168,000 oz silver and 2,400 oz gold recoverable from concentrate…"
This was a huge jump in inventory for Endeavour, up from 270,536 silver ounces and 2,420 gold ounces at the end of the third quarter.
The company now sits on more than $40 million of precious metals inventory.
Is this speculative? Sure. But speculating on future silver prices is a silver miner's job. Some, like Endeavour, do it by holding silver in inventory. Others, like First Majestic Silver (NYSE:AG), do it by buying silver futures.
First Majestic's Q3 release stated that it had increased its long silver futures position by 25% at an average price of $35.80 per ounce.
When these guys go long futures, or take the short-term hit to revenues by holding inventory and deferring that cash to a later period, it should tell you that silver is inexpensive.
It also tells you to expect a significant jump in revenues in future quarters for the hoarders. Remember that few investors are so in tune with quarterly production and revenue numbers. This creates an opportunity for the detail oriented.
Endeavour took the fourth-quarter hit, as revenues dipped 39% to $17.5 million.
But with more than $40 million in inventory, plus current production still ongoing, the company is literally stockpiling silver in anticipation of higher prices.
The company is not alone.
Thomson Reuters GFMS predicts the 2012 average silver price will be $45, as investment demand supports silver's price and absorbs any market surplus.
Combine a strong outlook for the industrial/precious metal with somewhat muted investor interest, and you have an opportunity with an attractive reward profile.
The chart below shows silver's average selling price from 2006 through 2011, as well as GFMS's target price in 2012. It's notable that the average annual increase in silver over this period is 24%, and that GFMS's 2012 price target is in line with this trend.
Looking at the chart, it's easy to see why Endeavour held onto some silver through the fourth quarter.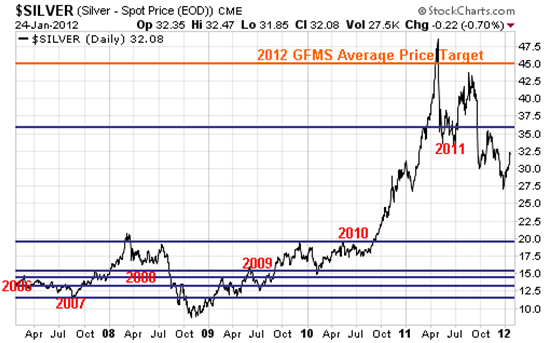 Expect some huge sales numbers from companies like Endeavour in the future should silver top $40 per ounce.
We'll know they're selling when we read something like Great Panther's (AMEX:GPL) December 15 press release announcing the company sold excess inventory, "…This will ensure strong fourth quarter revenues which will balance out the previous revenue shortfall in the second quarter."
Great Panther's stock is up 28% since that press release.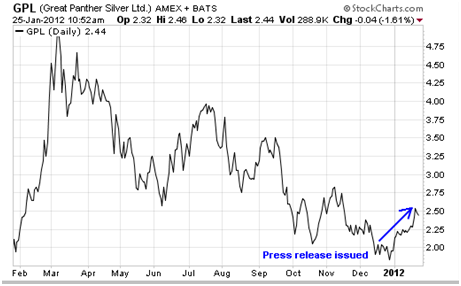 My favorite stock to own in 2012 is an emerging silver mining company. And it's not simply because I think the price of silver will go higher, though I believe it will. It's also because many investors are skeptical of the metal after its 2011 rally to $50 and subsequent crash to $27.50. Like Endeavour, this company has chosen to hold onto some of its Q4 production in inventory.
The bottom line is that we don't need $50 silver to make money with silver miners. Many of the best-of-breed silver miners are baseline profitable at $15 silver . or even lower in some cases.
The skepticism will work its way out of the market as silver moves back above $40 per ounce. But I'd rather own or buy shares now when silver is still in the low $30s.
Buying shares of select silver mining companies right now means owning the right to future production – along with hundreds of thousands of ounces in inventory – and doing so at an attractive valuation. That makes a lot of sense to me, and should to you too.