If you're confused about what to do in the markets – you're not alone.
It's not unusual for the market to send you a variety of confusing and contradictory messages. And as I said last week, you shouldn't let scary macro news shoo you off of investing entirely.
Sometimes it's helpful to look at long-term investing trends to help clear away distractions.
What could be a longer-term investing trend than a couple of companies that have paid a dividend for at least 127 straight years?
I'm not saying you should buy these stocks today, necessarily. But if and when you're ready to buy something, they're certainly worthy of your consideration.
And the best part? Both of these companies are commodity related.
1. Consolidated Edison, Inc. (NYSE: ED). This electricity and gas utility holding company serves a huge swath of some of the most highly populated areas in the United States. A good portion of New York (including parts of Manhattan, the Bronx and Queens), New Jersey and Pennsylvania fall under ED's service.
And since 1885, they've paid out a dividend. Today that dividend comes to around 3.7% annual yield – dwarfing the 10-Year U.S. Treasury yield of just under 2%. Even better, ED has raised its dividend just about every year since 1989. There's probably not a safer dividend company to buy today. It's likely that even if coal and gas prices double or triple that ED will be able to shift most if not all of those costs on to their customers.
After all, are people in Manhattan going to stop using electricity? I'll let Times Square answer that question for me: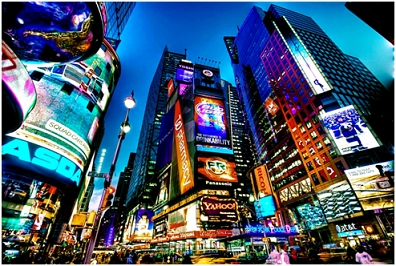 2. WGL Holdings Inc. (NYSE: WGL). What's better than a utility that's paid a dividend for 127 years? How about a similar utility that's paid out dividends for the past 160 years?
That's right, WGL started paying out dividends in 1852, or about nine years before the Civil War started.
And just like Consolidated Edison, WGL serves a huge swath of one of America's most populated areas. They provide natural gas to hundreds of thousands of residential, commercial and industrial customers via pipelines throughout the Maryland, Virginia, Delaware and Washington, D.C., region.
With natural gas so cheap, you think this company would be in trouble. But they currently pay a 4% dividend, have very little debt, and the stock sells pretty much right in the middle of its trading range for the past couple years.
They've also raised their dividend every year (including 2012) since at least 1972 – which is as far back as my data takes me.
If you're a dividend investor, and you'd like your dividends to keep paying out year after year, while constantly growing every year – with little worry that they'll stop being paid, or that your payments will go down – I can't think of two better companies to look into.