Quietly, while most people have been fixated on the Olympics and
the turmoil in Europe, the price of gold has been rising. Even less well
known, however, is that the value of gold mining stocks has been rising
even faster.
In a note to Pay Dirt
subscribers on July 5th, I wrote, "…all else being
equal, we are approaching a time when increasing exposure to the right
gold mining stocks could lead to significant gains."
I wrote that when a very simple to understand chart showed that
gold mining stocks were trading at historical lows compared to the price
of the underlying metal.
The relative performance of gold and gold mining stocks can be
measured by dividing the Philadelphia Gold and Silver Index (XAU) into
the price of gold, as this chart shows.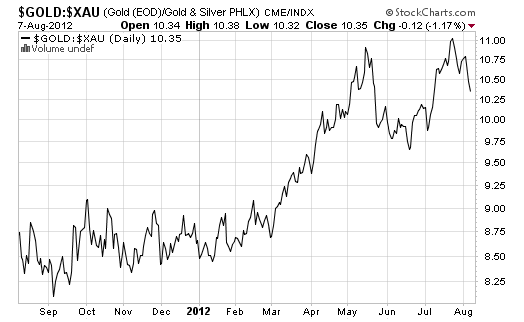 When this chart is at extreme highs, it suggests that gold stocks
are cheap relative to gold. To be honest, the chart doesn't look that
much different than it did a month ago; it's still near historical highs.
But the prices of many of the mining stock I follow – and the two I
recommended in Pay Dirt
– do look different. They are higher.
Since gold has also risen a bit, the ratio above is more or less
the same.
I believe gold miners will really begin to rally this fall. And for
those who want a relatively low-risk way to play a potential rally, a
creative form of gold mining company is the way to go.
It's not an explorer, or a major, or even a mid-tier producer. It's
a completely different business model altogether, and one that offers
tremendous upside potential while lowering the downside risk attendant
with many gold mine operators.
I'm talking about the gold royalty and streaming business model.
It's an easy to understand concept, but putting it into effect
successfully is anything but. That's why there are only a few successful
gold royalty companies out there.
Many companies now state that their