One little-known indicator is flashing…
BUY BUY BUY.
Since 1945 – this indicator has been 100% accurate in predicting gains for the S&P 500.
Go here for urgent trade instructions – and this week's AI trading bot alerts.
Stocks staged a huge rally last week – will all U.S. indexes surging.
+5% for the Dow Jones Industrials
+6% for the S&P 500
+6.6% for the Nasdaq Composite
The market's overall gains for 2023 have been driven by the "Magnificent 7." Those are the big tech stocks including Apple, Alphabet, Meta Platforms, Microsoft, NVIDIA and Tesla.
Bearish investors have been skeptical of the rally. And their primary claim is that only a small subset of stocks has been fueling the market gains. That changed last week…
Plus, my AI Trading Bot is predicting a rally for the S&P 500, Nasdaq 100, and the Dow Jones Industrials before December 31.
This new AI Trading Bot just issued these BUY ALERTS – click here for NAMES & TICKERS.
Indicator Predicts 23.3% Gains for S&P
Market breadth measures what portion of stocks are participating the market's move.
The Zweig Breadth Thrust (ZBT) measures 100-day moving average in the number of Advancing versus Declining stocks on the NYSE.
The ZBT is triggered when three things happen:
The market starts off being oversold – with less than 40% of stocks rising
The market breadth reverses – with more than 61.5% of stocks rising
This happens within just a 10-day period
This basically shows a massive and immediate reversal. And it's a bullish signal for stocks.
This has happened 16 times since World War 2.
It has a 100% accurate track record for stock market gains over both the next 6-months and the next year.
Below you can see the data showing +23.3% average gains for the S&P 500 over the next year.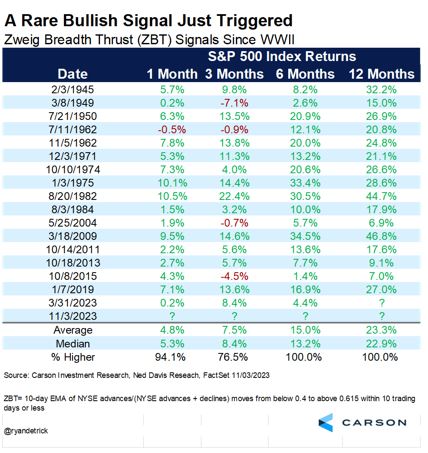 This bullish trigger lines up a seasonally strong stock market in November and December.
Since 1950, November is historically the single best month for the S&P 500 with average gains of 1.7%. Plus, December is the 3rd best performing month with 1.4% gains.
There's strong evidence to suggest that stocks were "oversold" in October.
Now it's time to prepare for a year-end rally. Market breadth and seasonality suggest that this rally could continue through December.
Your New AI Trading Agent – This Week's Trades
Are you ready to start winning +85% of your trades?
Our new predictive AI Trading Agent lets you spot the next big winning trades – letting you bank profits of 72%… 81%… and even 125%.
Simply click here for instant access and the next trades.
Yours in Wealth,
Ian Wyatt