Elon Musk says ChatGPT and Microsoft (NASDAQ: MSFT) are breaking the rules…
And they must pay Twitter (private) for stealing its data for their Artificial Intelligence initiatives.
It's all part of Elon's plan to quickly turn Twitter into a profitable platform for free speech.
Go here for urgent details on my #1 AI stock to buy now – 874% profit potential.
Last Friday Elon Musk announced a major change to Twitter.
Unverified "non-paying" Twitter users will be limited to reading 600 posts per day. And paying users will be limited to reading 6,000 posts per day.
Musk says that Artificial Intelligence is forcing him to make this change.
AI apps like ChatGPT have complex language models. These models collect data from the Internet.
The responses that you get from ChatGPT – and other generative AI bots – are based upon the content within its database. They collect information from the open web and sites including Quora, Reddit and Twitter. Vast amounts of data allow these AI bots to improve their responses.
Celebrate America's Next Major Breakthrough: The AI Profit Wave
Artificial Intelligence is the next major innovation. A small group of pure-play AI stocks are getting ready to take off. Early investors could see gains of up to 874%. Go here ASAP for this week's urgent AI Profit Summit.
Musk claims that Twitter's data is being illegally stolen to train these AI language models…
"Almost every company doing AI, from startups to some of the biggest corporations on Earth, was scraping vast amounts of data," explained Musk.
In May Musk accused Microsoft of stealing Twitter data for its Artificial Intelligence initiatives.
Scraping data is already prohibited by Twitter's terms and conditions. Yet it appears that many companies simply ignored Twitter's rules and steal the data regardless.
Musk and Twitter now say they need to be paid for the data on their platform. And Reddit has similarly been making changes that would allow it to monetize its vast amount of content.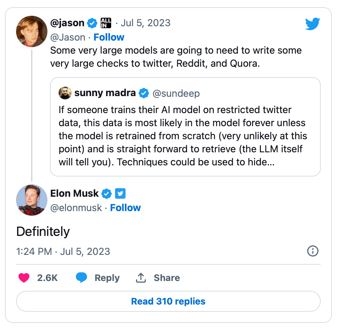 Elon has been working to improve the Twitter platform by adding new features and limiting bots. He's also slashed costs by reducing the headcount from 7,500 people to less than 2,000.
Now he's looking to turn around the company's financial performance by adding new streams of revenue.
Charging for data that's used in Artificial Intelligence chatbots is a major revenue opportunity for Twitter.
It appears that ChatGPT and others are using Twitter's data in their language models. Thus far, they haven't paid a penny to Twitter. Nor have they attributed Twitter as a source.
This raises many legal questions…
Is it legal for Microsoft or OpenAI to take data from Twitter's platform for free – and use this in the language models for their chatbots? If Twitter owns the data on its platform – can they restrict access? Can Twitter only allow access to its data if it's paid for the privilege?
There is going to be a wave of Artificial Intelligence litigation to sort things out. And it looks like Twitter's #1 target will be Microsoft and OpenAI.
My prediction is that the owners of the data will prevail.
This means that platforms can control who has access to their data. Companies with vast amounts of user generated content will get paid in exchange to access to that information. It'll be a windfall for Twitter and Elon Musk – with the potential for a multi-billion-dollar windfall.
Here are some companies that could be big winners – as AI companies rush to lock-in deals giving them access to rich data sources.
Angi (NASDAQ: ANGI): home service reviews
Pinterest (NASDAQ: PINS): image sharing
Twitter (private): micro blogging
Yelp (NASDAQ: YELP): reviews and ratings
Quora (private): question & answer – IPO candidate last valued at $2 billion
Reddit (private): message boards – planning an IPO worth $15 billion
It's still the early days for Artificial Intelligence. And that's why I'm hosting an urgent briefing today – and I'd love to have you join me. It's called…
Artificial Intelligence Profit Wave: America's Next Huge Breakthrough
Big tech stocks are soaring – all thank to AI.
MSFT is +43%. META is +132%. And NVDA is +195%.
The monster tech stocks have been getting all the investor attention – with Jim Cramer calling them the Magnificent Seven.
Yet a small group of undiscovered tech stocks are now ready to takeoff. These "pure-play" AI stocks are 100% focused on this technological breakthrough.
My research suggests that the gains could be staggering – with early investors banking as much as 874%.
Go here asap to get in – before these stocks take off.