Another day… another revolutionary breakthrough courtesy of Elon Musk.
SpaceX Starlink has changed the world of in-flight internet with BLAZINGLY fast WiFi speeds.
Is this another secret part of Musk's Master Plan 3.0?
Go here now to see how it could make you +1,766%.
Take a look at this pic.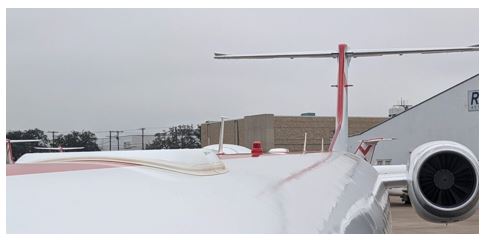 It's the Starlink antenna atop of a JSX plane…
One of the FIRST air carriers to embrace Musk's in-flight internet.
And to say that it works is a massive understatement.
Travel reporter Zach Griff tested it out with not one… not two… but FIVE Apple devices – all at once.
And here's what he had to say: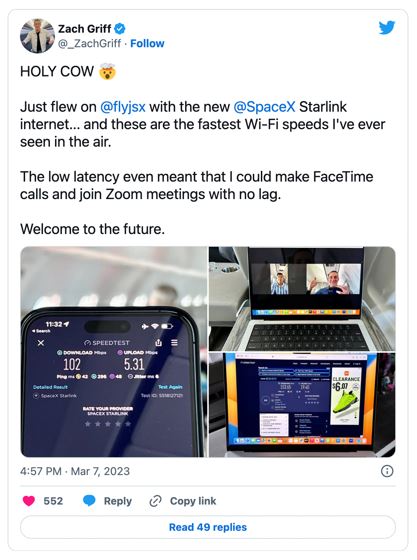 No wonder JSX's CEO has said that their customers have received Starlink with "amazement and delight."
But just how fast is Starlink's Wifi?
Well, each of the five devices Zach Griff tested listed download speeds over 100 Mbps – and upload speeds of 5-20 Mbps.
But it's the ping that makes Starlink truly stand out.
It clocked in at 28 and 150 ms during the four tests he carried out.
This allows you to stream videos, have Zoom meetings, FaceTime your friends, download your favorite album off Spotify… you name it.
Needless to say…
This has changed the world of in-flight internet FOREVER.
Now, I'm not sure if this a part of Elon Musk's new Master Plan.
But what I am sure is that every time he releases one…
It gives investors a FANTASTIC opportunity to see +1,766% gains.
Go here for my top 5 stocks to BUY NOW.
Because as opposed to Master Plan 1 & 2 where the profit play was to invest in Tesla stock and that's it…
This time, there's a small group of undiscovered stocks that could surge dramatically BECAUSE of Musk's new Master Plan.
And the reason is simple.
Elon Musk revealed that he's leading a $10 TRILLION effort to eliminate fossil fuels and convert the world to sustainable energy.
To do so…
One of the things he aims is producing 20 million EVs per year.
This requires a lot of batteries.
Which is why Tesla is rushing to lock-up critical supplies of batteries – and inking raw-material deals with several little-known stocks.
As always, investors who act BEFORE these deals hit the news are the ones who have the chance of the biggest gains.
I'm talking about the opportunity to make 1,766% – which is enough to turn $5k into $88,300.
The question is…
What's the NEXT stock inking a billion-dollar deal?