Elon Musk is quietly planning his next IPO…
And it could unlock a $30 billion profit windfall for the world's 2nd wealthiest man.
Go here for urgent details on Elon Musk's 2023 Master Plan.
Elon Musk is best known as the founder and CEO of Tesla (NASDAQ: TSLA). And his Tesla shares are currently valued at around $55 billion.
Yet a very large portion of his wealth is also tied up in SpaceX (private).
SpaceX has quickly become a powerhouse in the space business. The company makes rockets and spacecraft – providing services to NASA and private companies.
SpaceX is currently valued at $137 billion.
That's based upon the company's current plan to raise $750 million. The financing is being led by venture capital heavyweight Andreesen Horowitz.
The latest financing highlights the large amount of Elon's wealth tied up in SpaceX.
Elon currently owns 42% of SpaceX.
That means his SpaceX shares are worth $57 billion – on par with his Tesla stake.
SpaceX currently operates a satellite broadband called Starlink.
Over 1 million subscribers currently use Starlink around the world. These users connect to a constellation of 3,600 low earth orbit satellites.
Starlink is an important piece of SpaceX. And some Silicon Valley insiders estimate that it could be worth as much as $75 billion.
Elon has been hesitant to take SpaceX public in an Initial Public Offering. However, he might consider spinning off Starlink and taking it public in an IPO.
Back in 2020 he explained that Starlink could go public in a few years.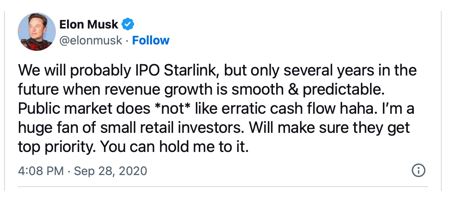 Will 2023 be the year of the Starlink IPO?
A Starlink IPO could unlock over $30 billion for Elon.
And it could allow him to sell some of his shares to public investors
Selling Starlink shares as part of the IPO wouldn't receive the same scrutiny as selling Tesla shares.
Elon's sales of TSLA stock been one of the reasons the stock is down 62% in the last year. And the stock could stage a rebound if Elon stops selling TSLA to fund Twitter's losses.
Elon was selling Tesla stock last year to fund his purchase of Twitter (private). Additionally, Twitter continues to lose money and Elon needs cash to cover the operating expenses. In total Elon sold over $23 billion of TSLA stock last year.
Tesla remains the most prized asset for Elon Musk.
That's why he's getting ready to unveil his 2023 Secret Master Plan.
It could transform the world's #1 EV automaker. And send Tesla stock back above $200 per share in the coming months.