It's official: Meta (NASDAQ: META) is going all in on AI.
The tech giant's 2023 Connect event had some HUGE announcements…
… including its own AI assistant and a slew of characters it's releasing in WhatsApp, Instagram, and Messenger.
Click here for my top 3 hidden AI stocks to BUY NOW.
Meta's AI will be like OpenAI's ChatGPT – but also different.
The company sees it as an all-around AI assistant inside their apps that you can use to plan a trip with friends… answer your questions… and find information about whatever you like.
What's more: Meta is announcing a partnership with Microsoft's (NASDAQ: MSFT) Bing to provide real-time web results.
Another aspect of Meta AI is its image creation.
The tech titan displayed a bunch of images its AI was able to create with the prompt /imagine.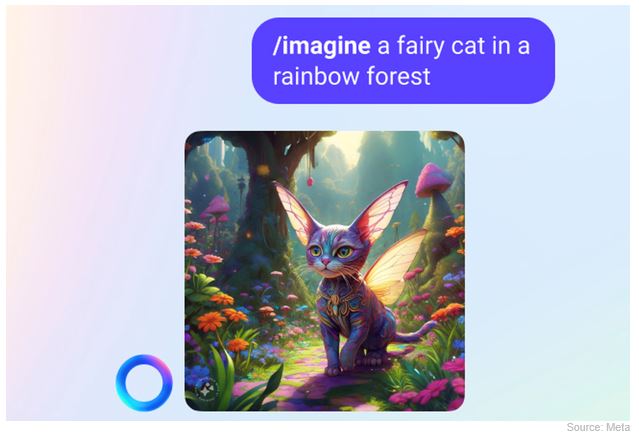 Meta is also rolling out a roster of 29 AI characters across its messaging apps.
And many of them are based on celebrities.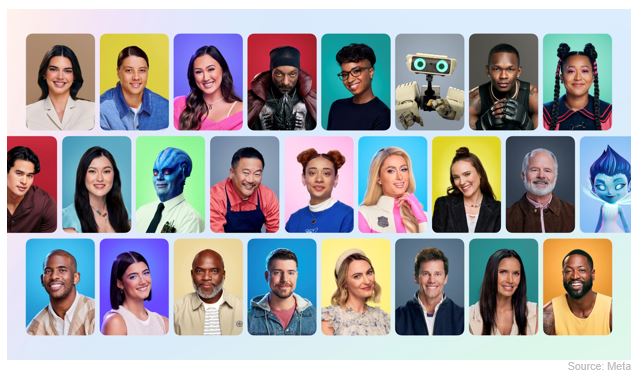 All these things and more could soon be in your phone.
In fact, a massive competitive edge that Meta has against ChatGPT and others is the BILLIONS of users they have across all of their apps.
And as Meta's VP of generative AI said…
The plan for this AI assistant of theirs is that it'll be "right there inside your chat context, and our chat applications are quite popular. You don't have to pull yourself out of context to interact or engage or get the assistant to help you."
OpenAI may have kick-started the AI boom…
But considering Meta's MASSIVE scale through its social networks…
Its assistant could end up being the AI that most people use.
If that's the case, then it'd be a gigantic win for Meta.
As Bill Gates said, AI assistants could be the end of search engines and "whoever wins the personal agent, that's the big thing, because you will never go to a search site again."
That's why tech giants are waging war to win the AI assistant race.
But who will be the REAL winners in this new AI boom?
And most importantly, how could YOU profit the most from this technological transformation?
Go here for urgent details – inside the live AI Profit Summit.
Frankly, AI looks like a repeat of the Internet.
Billionaire investor Brad Gersner said on CNBC that "this is bigger than the Internet itself."
Today we're in the early stages of a future that could look RADICALLY different from the world today. And that presents a fantastic profit opportunity for YOU.
That's why I'm hosting an exclusive presentation called the AI Profit Summit.
In it, you'll discover:
The massive AI tsunami caused by Chat GPT – and why it's sending Google and Facebook scrambling.
Why Elon Musk, Jeff Bezos and Bill Gates are betting BILLIONS on this groundbreaking technology.
How AI will create a new $1 trillion market by disrupting millions of jobs.
How to avoid FAKE AI stocks that are scams, frauds and will never hand you a profit.
The top 3 stocks to BUY now. These stocks could reap immense profits and deliver life-changing gains to early investors including YOU.
And most importantly…
An undiscovered AI strategy that could make you a whopping 874% in profits.
Enough to turn $5k into $43,700 in almost no time flat.
Simply go here now for all the details.
Yours in Wealth,
Ian Wyatt