Elon Musk just THREATENED to sue Microsoft (NASDAQ: MSFT)…
Accusing the software giant of illegally using Twitter's data to train its AI model.
It's yet another battle between tech giants in the A.I. race.
Go here for a secret A.I. backdoor that could make you 874%.
Last Wednesday…
Several publications reported that Microsoft would DROP Twitter from its advertising platform – to which Musk responded: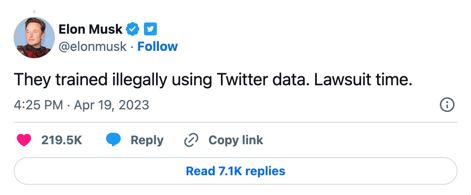 After all…
Data ownership is KEY for Big Tech to develop AI models like ChatGPT.
Microsoft is betting big money with their $10 billion investment in OpenAI…
But Musk is not happy about this deal, as you can see below: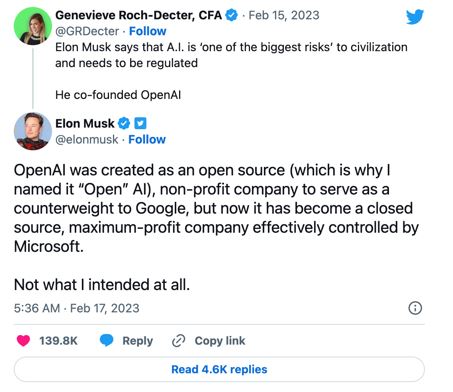 Microsoft will get paid back 75% of its investment from OpenAI profits.
And it will ultimately own 49% of OpenAI.
The other 49% will be owned by other investors.
Plus, OpenAI's non-profit organization will retain a 2% equity stake.
Microsoft is placing big bets on artificial intelligence.
And its $10 billion investment in OpenAI is just the start.
This major investment is sparking a wave of new investments in artificial intelligence.
And it's creating a huge profit opportunity for YOU.
That's why I'm hosting a FREE presentation where I'll share how you could make 874% from this AI profit wave.
In it, you'll discover:
The massive artificial intelligence tsunami caused by Chat GPT – and why it's sending Google and Facebook scrambling.
Why Elon Musk, Jeff Bezos and Bill Gates are betting BILLIONS on this groundbreaking technology.
How AI will create a new $1 trillion market by disrupting millions of jobs.
How to avoid FAKE AI stocks that are scams, frauds and will never hand you a profit.
The top 3 stocks to BUY now. These stocks could reap immense profits and deliver life-changing gains to early investors including YOU.
Artificial intelligence is the biggest tech transformation in a decade.
So it's no surprise to see Microsoft and Musk locking horns over it.
It'll be bigger than cloud computing… social media… fintech and streaming.
And early investors who jump into the right trades RIGHT NOW could earn the biggest profits.
And that's why I'm releasing my urgent findings and actionable research in a LIVE webinar.