$326.7 billion.
That's the total amount of dividends paid to shareholders during the first 3-months of this year.
It was a huge 12% increase from last year – and works out to $3.6 billion every day.
Go here to discover my #1 income trade for up to 45% income – in just 1-day.
Business remains strong at the world's biggest companies – despite 5% inflation, rising interest rates and the risk of a recession.
That's why the world 1,200 biggest companies are increasing their dividend payments. Bigger dividends are the most common way that publicly traded stocks return their profits to shareholders.
Take a look at this chart from the Janus Henderson Global Dividend Index.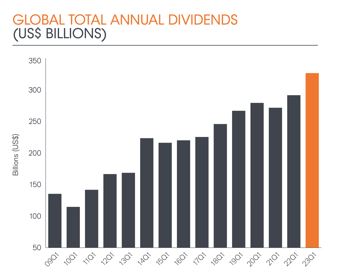 It shows that dividends from the world's biggest companies have more than doubled during the last 14-years. In fact, 2010 was the only year that saw a sizable decline in dividends.
Here are the top five sectors for finding growing dividends – based upon their growth rate during the first quarter:
Financials: 10.1%
Technology: 17.8%
Industrials: 20.5%
Oil and Energy: 37.8%
Consumer Discretionary: 94.8%
These sectors are a good starting point if you're looking for stocks with growing dividends.
The first quarter saw several sizable special dividends. Ford (NYSE: F) and Volkswagen (OTC: VWAGY) and several energy stocksissued sizable 1-time payments to their shareholders.
In addition to dividends, companies like to reward shareholders with stock buybacks. Buybacks can boost stock prices, reduce the number of shares outstanding, and increase earnings per share.
Last year the biggest stocks spent equal amounts on dividends and buybacks.
Analysts at Janus expect that total dividends for 2023 will grow by 5% and reach $1.64 trillion.
That's typically a tailwind for the stock market.
Are YOU ready to boost your income by 10-times?
Simply access the Income for Life Summit.
You'll discover…
How you could collect $18,235 in Supercharged Payouts in the next 12-months
The little-known 6.9% CPI savings account
The secret to earning 32%… 57%… and even 88% profits with Shadow Funds
How to earn 22.3% income from real estate – WITHOUT buying a single property
Simply click here for complete access (it's free).