The 2023 rally fizzled out in August…
Yet the market appears to simply be "taking a break" before sparking a year-end rally.
Plus, this new rally could get underway as soon as September 1.
Go here to your September 2023 Trading Game Plan (it's free).
The summer slowdown sets the stage for a major rally into the end of the year.
Market performance data from the last 25 years shows that September 1st through December 31st is bullish for stocks.
The market rises 80% of the time during these 4-months. And the average annualized return is 10.2%.
However, 2023 isn't just another ordinary year…
It's the year before a Presidential Election. Also known as a Pre-Presidential Election Year.
Stocks typically rally nearly 7% during the final 4-months in a Pre-Presidential Election Year. That works out to 22.3% annualized!
You can see this expected year-end move in this chart…
S&P Rally Prediction:
Click Here for the September Trading Plan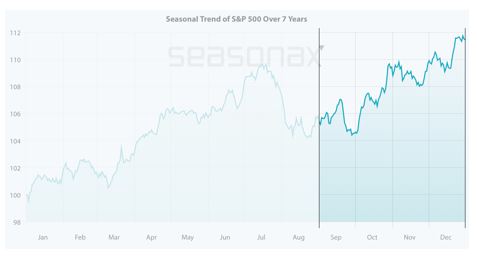 Plus, only 1-of-7 years has been a loser.
That means there is an overwhelming likelihood that stocks will post decent gains in the final months of this year.
The S&P 500 is now trading around 4,513.
Gains of 7% from here would take the index to 4,828 by the end of December.
That would mark an all-time high for the S&P 500 – taking out a previous high of 4,796.
The bottom line is that it's time to get bullish with your trades.
My colleague Brit Ryle just spotted a new Profit Window starting September 1st. And he's preparing to launch 3 – 5 new trades to profit from this bullish move.
These types of Profit Window Trades are already handing investors gains of:
57.4% in Adobe in 24 days
60.6% in Home Depot in 12 days
65% in SAIA in 14 days
72.1% in Teleflex in 6 days
81% in L3Harris in 4 days
125% in RLI Corp. in 24 days
And these next trades could see similar gains.
That's why I'd like to rush you a free copy of Brit's just released report:

Profit Windows Trading Game Plan: September Edition
Plus, join my LIVE briefing TODAY at 12pm Eastern / 9am Pacific.
I can't wait to see you there.
Just click here for instant access.
Yours in Wealth,
Ian Wyatt
P.S. What if you KNEW where stocks where stocks were going in the next 30… 60… 90 days? Would that give you an edge with your active trading – and long-term portfolio?
It's all possible when you discover how to spot high probability Profit Windows in the market. Go here and I'll show you how.