After seeing all the attention Tesla's Bot got in China…
The automaker just put its FIRST one in US stores.
And this could be a major boost for Elon Musk's new plan for the company.
Go here to see how this could make you +1,766% gains.
Tesla's bot is called Optimus.
And it created so much foot traffic and customer engagement in China…
That the FIRST Optimus robot displays have now arrived in US stores.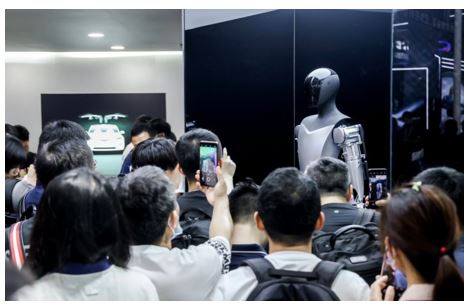 To be clear…
This is not a working prototype of the bot.
It's just a display unit of what Tesla wants it to look like.
But it's having a similar effect than the Cybertruck had in 2020.
Back then, the Cybertruck was still YEARS ahead of its market release…
But excitement around it boosted sales dramatically.
And now Tesla is using Optimus to hopefully achieve the same result.
Elon Musk said Optimus will account for "a majority of Tesla's long-term value."
And he's probably using it to make his new Master Plan for Tesla a success.
Most importantly for investors, every time he releases a Master Plan…
It gives those who act fast a FANTASTIC opportunity to see +1,766% gains.
Go here to discover how his new plan could help you turn $5k into $88,300.
Because the profit play with his Master Plan 3.0 is completely different than with his two previous Master Plans.
Here's why.
Tesla wants to produce 20 million EVs per year…
And one thing that Tesla needs is batteries to reach that goal.
That's why the automaker is already sparking a massive battery metal "land grab"…
… and why every automaker including Tesla, Ford, General Motors, Volkswagen and Toyota are rushing to secure critical partnerships to produce millions of batteries.
They're signing deals with undiscovered stocks.
And the size of these deals is massive:
$186 million deal to acquire 80,000 pounds of cobalt per year
$1.7 billion agreement to buy nickel from a midwestern mining stock
$5.1 billion agreement to buy lithium from an Australian company
Dozens of new deals could be announced in the coming weeks.
And once they're announced – shares can quickly jump 132%… 548%… 614%.
In fact, that's how much some stocks have jumped after an announcement.
As always, investors who act BEFORE these deals hit the news are the ones who have the chance of the biggest gains.
The question is…
What's the NEXT stock inking a billion-dollar deal?