Shares of Tesla (NASDAQ: TSLA) slipped after last week's earnings report.
Yet the selloff appears largely unwarranted – giving investors an opportunity to "buy the dip."
Even after the 10% correction – TSLA is up 148% this year.
That's why I'm betting on these secret Tesla partners that profit from Elon Musk's NEW Master Plan.
Click here for urgent details ASAP – my #1 stock could jump 614% or more.
Last week Tesla reported a record-breaking quarter.
479,700 EVs delivered to customers – an increase of 86% in the last year
Revenues totaled $25 billion – marking a 47% increase
Model Y became the bestselling car – outpacing sales of the Toyota Corolla and VW Golf
Meanwhile, Tesla continues to advance on several important fronts.
EV Supercharger Network
The Tesla Supercharging network now includes over 50,000 chargers at 5,000 locations. Tesla's charging technology is now being embraced by other automakers. And Ford, GM and Mercedes are adapting to the technology and will be using the Supercharger network.
Tesla clearly has a lead with charging technology and it's charging network – and that's why other automakers are rushing to partner.
Full Self Driving
Additionally, Tesla appears to be far ahead in the race toward autonomous driving.
Tesla offers "Full Self Driving" as a software upgrade on its EVs. Elon Musk reports that the FSB beta has achieved over 300 million miles driven.
This chart shows how quickly this is ramping up – as Tesla's EV sales skyrocket.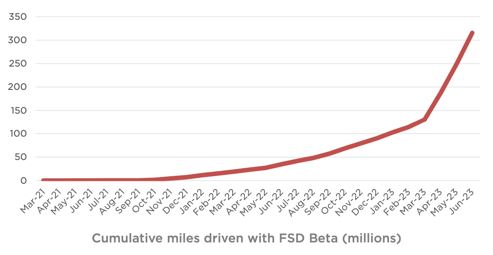 This means that the company has a huge amount of driving data. And that large scale dataset will be critical for training the EVs and achieving safe autonomous driving.
Tesla continues to advance on its autonomous driving technology.
It's all part of Elon Musk's Secret Master Plan 3.0 (click here for details).
With those types of results – you'd expect Tesla stock would be rallying.
Shares of Tesla are having a banner year.
Shares started the year trading at $108. It's now up 148% and trading around $268.
TSLA stock topped out at $293 in mid-July. And then fell nearly 10% last week after its earnings report.
Tesla beat Wall Street's earnings estimates.
However, the company lowered its pricing on new EVs. And that resulted in lower profit margins for the quarter.
During the quarterly call Musk explained why Tesla is lowering its pricing.
"When interest rates rise dramatically, we actually have to reduce the price of the car because the interest payments increase the price of the car. And this is — at least up until recently, it was, I believe, the sharpest interest rate rise in history. So, we had to do something about that."
Wall Street is concerned about Tesla's smaller profit margins.
Meanwhile, Elon Musk appears focused on capturing market share – even if that means reducing profit margins in the near-term.
Musk reminded investors that Tesla continues to have positive cash flow. It's making huge investments in expanding production. Plus, the company is making big investments in new technology.
It seems like Wall Street is far too focused on the near-term results. And analysts are overlooking the bigger picture.
At the same time – TSLA stock is already up 148% this year.
That's why I'm NOT buying TSLA stock near a 52-week high. Instead, I'm jumping into…
These 5 hidden stocks to profit from Elon Musk's Master Plan 3.0.
Go here asap for urgent details – my #1 stock could jump 614% or even more.