Tesla (NASDAQ: TSLA) continues to crush the competition…
Selling 60% of new EVs in the U.S. market.
That's why I'm betting on these secret Tesla partners that profit from Elon Musk's NEW Master Plan 3.0.
Click here for urgent details ASAP – my #1 stock could jump 614% or more.
Tesla's Model Y is now the #1 bestselling car in the world – selling more cars Toyota's ever-popular Corolla.
Automakers around the world are scrambling to catchup with Tesla.
Currently there are 47 different EVs on the market in the U.S.
Yet despite investing billions to create these new EV models – most have a market share of less than a 1%. And the major automakers are losing billions with EVs.
General Motors (NYSE: GM) expects to lose $3 billion with EVs this year. Plus, Ford (NYSE: F) expects is losses will grow to $4.5 billion.
GM's Chevrolet brand has been the most successful – gaining a 6% market share. You can see here that Tesla is selling 10-times more EVs than Hyundai-Kia, GM, Volkswagen and Ford.
Tesla 10X Bigger Than Everyone Else
Go Here for Musk's Master Plan 3.0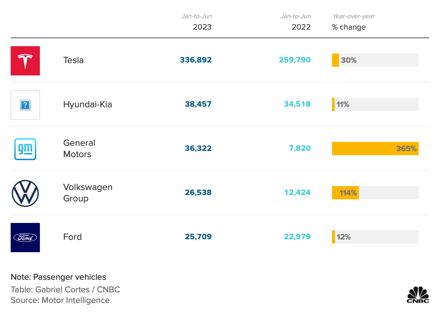 The big automakers may have dozens of models. However, a lot of people don't want to buy these cars…
They want to buy EVs from Tesla.
Tesla created the EV product category. They built the largest supercharger network. And they've rolled out high-performance EVs at a reasonable price.
Elon Musk is aggressively cutting prices on Tesla's cars.
Interest rates on auto-loans are at a multi-year high. And Musk says price reductions are designed to make the cars more affordable.
Tesla can cut its costs is because it's so profitable – unlike Ford and GM.
Tesla produced 479,700 EVs in the last 3-months. During that time the company earned a $4.6 billion profit on an EBITDA basis.
This means that Tesla is earning a profit of approximately $9,600 per car.
The Biggest Threat to Tesla
In the near-term it seems unlikely that any of the legacy automakers will topple Tesla. And if you want to look for a viable competitor – you need to look at China.
China's BYD (OTC: BYDDY) is the world's #2 EV automaker.
Warren Buffett's Berkshire Hathaway (NYSE: BRK-B) has been a long-term shareholder. And it currently owns 9% of BYD.
BYD sold 751,600 EVs during the first 6-months of 2023. That puts BYD approximately 170,000 EVs behind Tesla.
Frankly, Chinese companies like BYD or NIO (NYSE: NIO) are a bigger threat to Tesla than the major automakers. These companies aren't expected to enter the U.S. market – since EVs must be produced in the U.S. to get the tax credits.
TSLA stock is already up 131% this year.
That's why I'm NOT buying TSLA stock near a 52-week high. Instead, I'm jumping into…
These 5 hidden stocks to profit from Elon Musk's Master Plan 3.0.
Go here asap for urgent details – my #1 stock could jump 614% or even more.