"For 240 years it's been a terrible mistake to bet against America. Babies being born in America today are the luckiest crop in history." – Warren Buffett
Celebrate America's Next Major Breakthrough: The AI Profit Wave
Artificial Intelligence is the next major innovation. A small group of pure-play AI stocks are getting ready to take off. Early investors could see gains of up to 874%. Go here ASAP for this week's urgent AI Profit Summit.
Happy 4th of July!
July begins the 2nd half of 2023. Let's take a quick look at what's happened during the first 6-months. And I'll offer some predictions on what we might expect in the coming months.
Your 2023 Half-Time Report
Stocks rebounded after a horrible 2022.
That follows a common trend. A downturn for the market is often followed by a prompt rebound. The move surprised many investors.
Just check out the performance:
Russell 2000: +7.9%
S&P 500: +16.6%
Nasdaq: +40.2%
There are several macro tailwinds that are fueling the gains for stocks. The most important thing is that inflation dropped by more than 50% in the last year – with the June reading at just 4%.
That's still double the Fed's target rate of 2%. Yet it's a huge improvement from the 9.1% reading last June.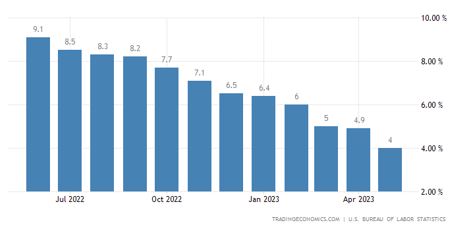 Falling inflation led the Fed to skip raising rates at their last meeting. While Powell & Co. continue to threaten another hike or two later this year – the market doesn't seem to care. There is a consensus view that the Fed is approaching the end of its rate hike cycle. And the market is no longer letting the Fed drive the narrative for the market.
Instead, investors have jumped onboard the Artificial Intelligence bandwagon (go here for my top stocks).
That's propelled a huge rebound in the biggest tech stocks – recently dubbed the Magnificent Seven. And the 40% rally in the tech focused Nasdaq reflects these big winners.
6-Month Market Outlook
There has recently been a lot of criticism of this stock market rally.
Investors don't want to "believe" in the rally – even though the performance shows that stocks are breaking out.
One common criticism is related to market breadth. Turn on CNBC and you'll hear smart people say…
"Yes – the S&P is up 16% this year. But that's only because of Nvidia, Microsoft, Google and Meta. Without them the market wouldn't be up."
That WAS true – earlier this year.
However, in June we saw the market breadth improve considerably. This means that smaller and less well-known stocks are joining the rally too. The rally is no longer concentrated among a small group of tech stocks.
Go here for my #1 AI stock to buy now – 874% potential gains.
417 of the 500 stocks in the S&P 500 are now posting gains for the year. Meanwhile, 115 stocks are up more than 10% YTD.
The broadening of the rally is important – and it's a sign of health for the market.
History tells us that gains of +10% in the first 6-months are usually followed by more profits. Since 1950 – the market typical rallies another 7.7% during the next 6-months and 12.2% during the next 12-months.
Here's the data from Carson Group – showing an 82% chance that the market gains will continue.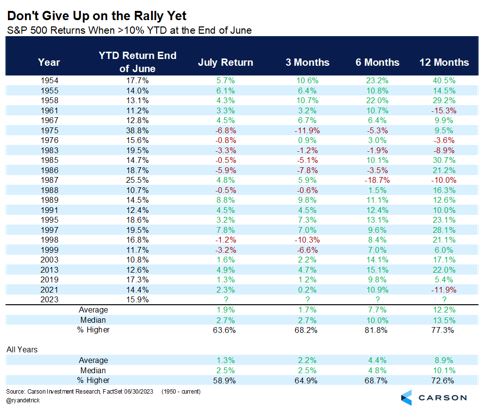 This suggests that the S&P 500 could see total gains of 24% this year – bringing the index to new all time-highs.
I'll admit that there remain risks on the horizon.
The full impact of the Fed's rate hikes won't be known for at least another year. The higher rates could continue to pressure regional banks – and we could have additional failures like Silicon Valley Bank or First Republic.
However, the economic data shows that inflation is falling, GDP is improving, consumer spending and confidence is high, the housing market remains strong, and unemployment remains extremely low.
Plus, history tells us that a big rally in the first half often translates into more gains in the coming months.
Until the data changes – it remains a good time to be bullish on U.S. stocks.
My advice is simply don't bet against America or the current stock market rally.
America's economy has always been the most innovative and resilient in the world. Our people and businesses are always developing the next big thing – such as Artificial Intelligence. And these continual innovations propel the value of our stocks and the market as a whole.
It's easy to be pessimistic after last year's horrible performance for stocks, bonds, crypto and everything else. It's easy to criticize the politicians in Washington D.C. – especially if you don't like their policies or their party. It's important to remember that they're temporary – and the next election is right around the corner.
Please take the time on this 4th of July to consider everything that is good and working well in our great country. Because from my perspective America has the most robust and innovative economy in the world – and it's all thanks to our people.
Let's take today to celebrate what it means to be an American. I'm wishing you and your family a very happy Independence Day.
Artificial Intelligence Profit Wave: America's Next Huge Breakthrough
Big tech stocks are soaring – all thank to AI.
MSFT is +43%. META is +132%. And NVDA is +195%.
The monster tech stocks have been getting all the investor attention – with Jim Cramer calling them the Magnificent Seven.
Yet a small group of undiscovered tech stocks are now ready to takeoff. These "pure-play" AI stocks are 100% focused on this technological breakthrough.
My research suggests that the gains could be staggering – with early investors banking as much as 874%.
Go here asap to get in – before these stocks take off.
Happy 4th of July,
Ian Wyatt