Want to get paid more from your stocks?
You might want to consider buying stocks that are raising their dividend payouts.
Stocks that increase their dividends – or initiate dividends – have a long history of strong performance. Just check out this data compiled by Schwab.
Go here ASAP for my top NAMES and TICKERS.
Hidden Dividends Pay Out Up to 45%
Go Here to Collect Your First Payout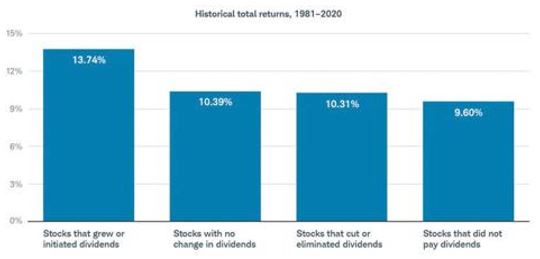 You can see that stocks that are increase their dividends outperform all other stocks – by 3% annually. That may seem small – yet that's a 30% outperformance.
Stocks that raise their dividends deliver two main benefits to shareholders:
The amount of the monthly or quarterly dividend is growing – rewarding you with more cash flow year-after-year.

The stock price of companies can be correlated with the dividend yield. This means a stock that consistently raises its dividend by 10% annually is likely to see the share price also rise by 10%.
It makes complete sense.
Companies that are raising their dividends typically do so for a good reason. It's because their profits are rising.
These businesses also tend to be well managed. Instead of reinvesting the profits in the business – management is distributing a portion of the profits to the shareholders.
This is why dividend growers outperform all other stocks for the long-term. And its why income investors should be more focused on dividend growth instead of high yields.
We've recently had dozens of stocks raising dividends. Some are well known household names. Others are tiny stocks that you've never heard of.
I've broken them out into two groups. First are well-known companies raising their dividends. The second are high yield stocks that are also growing their dividends.
Here they are…
Prominent Dividend Growers
Texas Instruments (NYSE: TXN) 4.8% increase – now pays a 3.2% dividend
Starbucks (NASDAQ: SBUX) 7.6% increase – now pays a 2.4% dividend
American Tower (NYSE: AMT) 3.2% increase – now pays a 3.7% dividend
Microsoft (NASDAQ: MSFT) 10% increase – now pays a 0.9% dividend
JP Morgan (NYSE: JPM) 5% increase – now pays a 2.8% dividend
Keurig Dr. Pepper (NYSE: KDP) 7.5% increase – now pays a 2.6% dividend
High Yield Dividend Growers
Main Street Capital (NYSE: MAIN) 19.6% increase – now pays 8.5% dividend
Horizon Tech Finance (NASDAQ: HRZN) 10% increase – now pays 10.9% dividend
San Juan Basin Royalty (NYSE: SJT) 157% increase – now pays 9.2% dividend
Ready Capital (NYSE: RC) 157% increase – now pays 13.1% dividend
These dividends are growing and healthy – compared with most stocks.
Yet it's possible to collect 28%… 41%… and even 45% dividends in just 1-day.
Go here to get details on the next huge income trade.
Yours in Wealth,
Ian Wyatt