According to Yahoo Finance…
The flooding from "storm Hilary on the state also threatens California's refining and distribution systems, potentially pushing prices higher."
But gas prices were climbing before Hilary was a blip on the radar.
Higher gas prices are hitting Americans hard in the wallet…
… which is why you might want to consider this simple income blueprint.
Click here to discover how it could help you make an extra $5k per month.
Gas prices just hit an average $5.26 in California.
And while it's no secret the Golden State has expensive gas prices…
A Yahoo Finance article suggests that Hilary's impact could have something to do with the rise.
But gas prices were already climbing before, so it makes no sense to blame the storm.
That's why a lot of people see this as a cheap excuse for gouging prices.
Meanwhile, the national average gas price is also rising.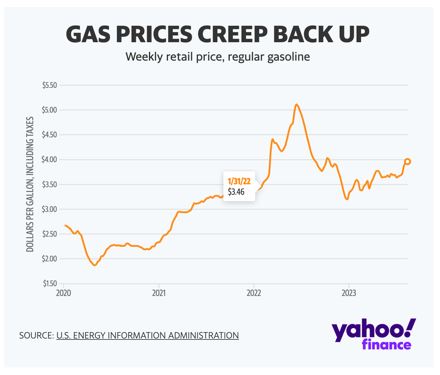 According to the Energy Information Administration (EIA)…
The price of a gallon of regular gas has reached $3.96 nationally last week.
This will not only hit Americans' wallets HARD…
But it could also hit the inflation numbers hard in the next CPI report.
What's worse: Energy-driven price inflation could reduce consumer spending.
More money spent on energy means less money spent elsewhere.
In turn, rising gas prices could lead to slower job growth, higher mortgage rates, higher interest rates, higher grocery prices… basically higher inflation.
If you're worried, this income blueprint is for you.
Its goal is to help you earn up 10X more income in the next 90 days.
One of the strategies in it could hand you 1-day payouts of up to $4,501.
Better yet…
You can combine this simple strategy with the 36 additional income strategies inside a free book I'm eager to share with you.
Here's how they could help you earn more income soon.
This 186-page book is packed with little-known strategies such as:
How to double your income the next time the Fed raises rates! (see how on page 38)…
How to skip the red tape and collect huge royalty checks from Silicon Valley venture capital firms (page 44)
How to collect massive rent checks from federal government agencies like the FBI – without owning a single property! (check out page 56)
And that's just three of the THIRTY-SEVEN income secrets you'll discover.
This book normally sells on Amazon for $20.
But I want to offer you this book absolutely free – with no strings attached.
Go here to claim your copy while it's still free.
Good Fortunes,
Steve Mauzy