Artificial Intelligence is on fire…
Last night Nvidia (NASDAQ: NVDA) posted blockbuster earnings that crushed Wall Street estimates.
Nvidia is seeing a surge of demand for its chips that power Artificial Intelligence applications. And this quarterly report shows that it isn't slowing down anytime soon.
Go here for urgent details on my #1 AI stock to buy now – 874% profit potential.
Just check out the performance:
Revenues: $13.5 billion versus $11.2 billion estimate
Earnings: $2.70 per share versus $2.09 estimate
Here's CEO Jensen Huang…
"A new computing era has begun. Companies worldwide are transitioning from general-purpose to accelerated computing and generative AI."
You can see that revenues are up over 100% in the latest quarter. That's a huge amount of growth for the 5th largest company in the S&P 500.
AI Profit Wave Reveals NEXT Big Winners
Go here to Watch Now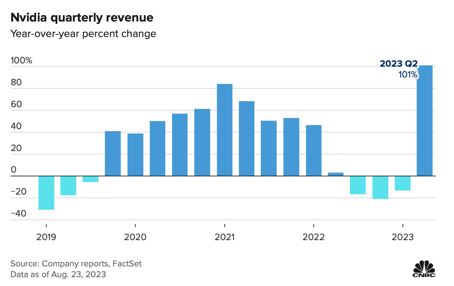 Nvidia is profiting from the biggest technological transformation since the Internet.
These results are incredibly impressive.
Just 3-monnths ago Nvidia shocked investors by raising its outlook. And then the company absolutely crushed the guidance and analyst estimates.
The company expects third quarter revenues of $16 billion. That's well above the $12.6 billion analyst estimate. And suggests 170% growth!
Nvidia is considered a "picks and shovels" play on Artificial Intelligence.
The company doesn't make AI software applications like ChatGPT or Google's Bard.
Instead, Nvidia makes the chips that are used in data centers. These chips are in high demand by anyone building AI applications – including Alphabet (NASDAQ: GOOG), Microsoft (NASDAQ: MSFT), Meta Platforms (NASDAQ: META), OpenAI (private) and hundreds of AI startups.
Nvidia CEO Jensen Huang expects this rapid growth will continue…
"The world has something along the lines of about a trillion dollars worth of data centers installed, in the cloud, enterprise and otherwise. That trillion dollars of data centers is in the process of transitioning into accelerated computing and generative AI."
Nvidia is the only game in town right now.
NVDA shares rallied on the news.
In Thursday morning trading the stock was up 3% and trading at $486 per share.
NVDA is the best performing stock in the S&P 500. It's up 222% this year.
Huang thinks NVDA shares are cheap.
Last quarter the company bought back $3 billion of its own shares. Plus, the company plans to buy back $25 billion of its own stock.
The Nvidia results show that there is unstoppable demand for its AI chips.
Right now, the company's growth is being limited by its production capacity. There is literally unlimited demand.
This news shows that every tech company is going "all-in" on Artificial Intelligence. Everyone from Microsoft and Google to new tech startups are transitioning to AI.
That strong demand is showing up in Nvidia's earnings. And it's a bullish signal for pure play AI stocks.
Nvidia Launches Next Artificial Intelligence Profit Wave
You could simply buy NVDA.
However, this stock is already up over 200% this year. So, you've likely missed out on the big gains.
Yet a small group of undiscovered tech stocks are now ready to takeoff. These "pure-play" AI stocks are 100% focused on this technological breakthrough.
My research suggests that the gains could be staggering – with early investors banking as much as 874%.
Go here asap to get in – before these stocks take off.
Yours in Wealth,
Ian Wyatt