Nearly four years removed from the subprime mortgage lending crisis pushed the U.S. into a deep recession, it's finally time to invest in housing.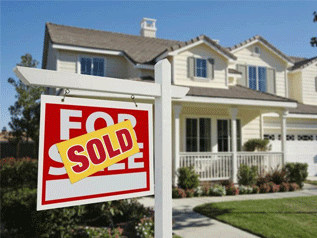 It appears that the housing market has bottomed, making this an ideal time for investors to load up on housing stock.
According to the Case-Shiller index, home prices nationwide have fallen by an average of 34% since their July 2006 peak – a decline that's on par with the housing crash that occurred during the Great Depression.
When you adjust for inflation, home prices today are as cheap as they were in 2000. The current average interest rate on a 30-year mortgage is 4.11%.
Housing starts – or the number of homes being built in the U.S. each year – have dipped from a peak of 2.3 million in early 2006 to between 500,000 and 600,000 for the last three years. That's about one-third of the historical new-homes average of 1.5 million.
What that tells us is that the number of homeowners has waned significantly as Americans wait for the post-recession clouds to part. But that doesn't mean the population isn't continuing to grow and that new families aren't being formed by the second. The housing market will bounce back.
In fact, it's already showing signs of life as the U.S. economy continues to recover. In the second half of 2011, new home starts increased to 640,000 units, the highest six-month average since early 2009. The National Association of Homebuilders reported in February that confidence is at the highest level since May 2007.
Despite improved consumer confidence and the increase in housing starts, mortgage rates should remain low through at least 2013. Last week the Federal Reserve reiterated its intentions to keep interest rates near zero.
The reason is to encourage borrowing, which results in economic activity. While low interest rates may be a negative for income investors, it's a huge positive for borrowers, including homeowners. That should fuel a recovery in housing prices in the years ahead.
As a contrarian investor I am constantly on the lookout for investments that have been beaten down or overlooked. That's how you find compelling valuations that have become attractive investment opportunities.
The housing sector has been beaten down so far that it has reached a bottom. Real estate today reminds me of Internet stocks after the dot-com bubble burst in 2001. There are opportunities ripe for the picking for selective and patient investors.
So with the housing sector showing signs of recovering, how can investors take advantage of a potential bounce-back?
Buying a second or third home is one way to do it. But most people don't have that kind of money. Better to put your money into housing stock.
Share prices in the housing sector are already on the rise, as evidenced by the fact that ETFs that track housing stock have also been on a roll of late. Both the SPDR Homebuilder (NYSE: XHB) and the iShares Dow Jones U.S. Home Construction (NYSE: ITB) exchange-traded funds have climbed 26% in 2012. That's nearly triple the 9% gains the S&P 500 index as a whole has made this year.
Still, both ETFs are trading well below their pre-recession levels. At $14.90 a share, ITB is trading at roughly one-third of what it was in early 2007. XHB, at $21.15 a share, is about half the $39.70 it was worth five years ago.
For the first time since the housing market crashed in 2008, housing starts and consumer confidence are starting to improve. Housing stock is following suit, making significant strides in the first few months of 2012. But there's still plenty of room to grow.
As America digs itself out from underneath the rubble of the recession, it appears that the worst for the housing sector is behind us. More homes are being built than at any time in the last three years. Buyer activity is picking up.
And suddenly – after years of being beaten down – there's a reason to be bullish on housing stock.