Trulia (NYSE: TRLA) ripped 56% higher last month. But this housing stock remains off many investors' radars.
This is a great stock to own if you're a believer in the housing recovery, which I am. Trulia offers free housing data to consumers. Potential homebuyers can use Trulia.com to find free data about price trends, neighborhoods and other important research categories.
In return for delivering such a useful service, the company receives money from advertisements and real estate agents looking to drum up business. Trulia charges real estate agents a monthly fee for receiving a prominent placement in listings. The advertising business draws money through display advertising with fees paid on a per-impression or per-click basis.
The U.S. housing recovery is picking up steam. Moreover, mobile advertising is a huge industry. Trulia benefits from both hot trends.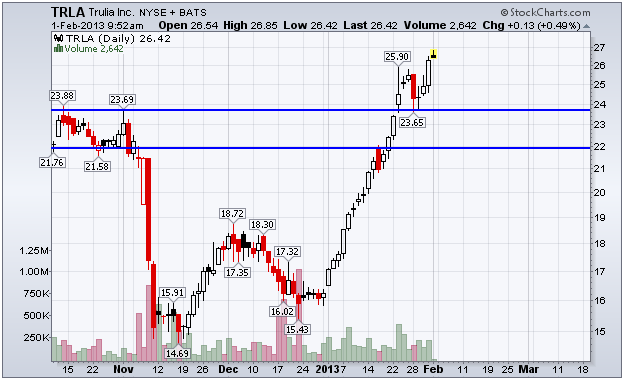 This chart shows the price of TRLA shares along with two important support levels to monitor.
So it's no wonder the stock popped in January. Volume was high during the ascent, indicating extra-positive sentiment for the stock.
Though the shares have rallied strongly, more gains appear likely. After topping at $25.90, the stock stalled before moving onto higher highs. This reprieve turned out to be a healthy consolidation, and showed traders where to expect support on another pullback.
Buyers should look for strong support near $23.50, which acted as near-term support during this huge rally and was once a previous resistance zone (top blue line above). There is another established support region at $21 (bottom blue line above) should $23.50 fail. The long-term trend favors TRLA and I'm expecting the shares to reach $30.
Equities mentioned in this article: TRLA
Positions held in companies mentioned above:
Don't Miss: ChartWatch: Ford Dip May Provide Great Entry