There's something new going on with Bristol Myers Squibb (NYSE: BMY). And it's not a new patent.
The new development involves the shares of BMY, and it isn't a positive switch.
Bristol Myers Squibb may not be the most fascinating or exciting company. But retirees appreciate its shares for their safety and historical lack of volatility.
Unfortunately, the haven offered by BMY may have come to a halt in August. You see, in August Bristol Myers Squibb did something it hadn't done for two years.
The top pharma company likely entered a bearish trend when its shares moved below the 200-day moving average. As noted before, this moving average had been a strong area of support. However, the recent decline from $36 to $32 took the shares below the 200-day (blue arrow).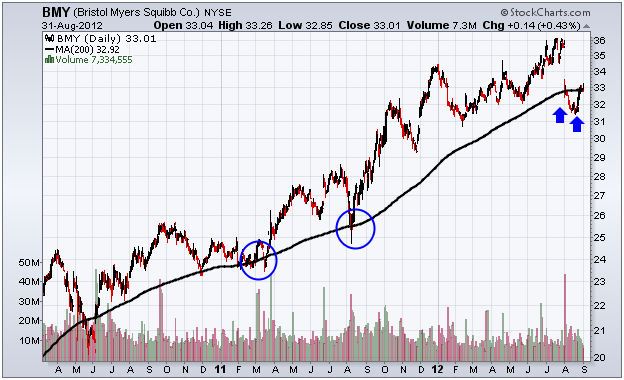 Institutional investors add to positions near the 200-day moving average. Accordingly, it's a major development (and often a sign of future losses) when a stock moves below this trendline.
Over the past several years, BMY investors have been particularly careful not to let the shares dip below the 200-day moving average (blue circles), making the recent lack of support all the more concerning. The next area of support is $29 and that's where I expect the shares to move in the next three months.
Don't get me wrong. BMY is a great stock. It also offers shareholders a high-yield dividend of more than 4%.
Though the company is solid and its payout generous, the shares are unlikely to appreciate in the coming quarter. Those looking to enter a position should wait, while those investors with a position should look to hedge or wait to buy more.