After four months of slugging it out around $10, bulk chemical transporter Quality Distribution (NASDAQ: QLTY) finally developed a bullish pattern.
A previous ChartWatch article noted that this cheap stock was on sale. However, it took a few months for the shares to garner positive momentum.
Though shareholders had to wait, their patience may be rewarded as two recent bullish developments suggest the shares could be driving up towards $12. A third development (in the making) could haul QLTY above $14.
The first bullish development occurred earlier this month. On some decent volume, QLTY was able to pop above its 50-day moving average (orange line).
Traders often turn to the 50-day moving average to determine trend. In April, the shares lost the 50-day moving average and the stock subsequently declined from $13 to $9 during the next three months. Now that the shares are back above the 50-day, traders should turn bullish on the stock, helping it gain momentum to the upside.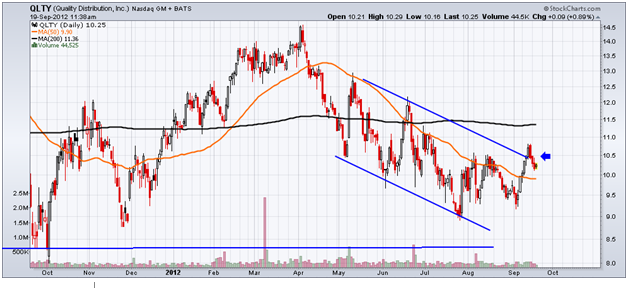 This chart shows the price of QLTY shares along with a channel resistance area for you to monitor.
The second bullish development occurred this week. QLTY briefly managed to exceed channel resistance (twin blue lines) on above-average volume. A breakout will occur once QLTY manages to close above $10.59 (above blue arrow). That breakout would add strength to the momentum gained by the bullish 50-day moving average reclamation.
The final key development new buyers need to watch for is a break above the 200-day moving average (black line). This would be the final straw that breaks sellers' backs. Any move past the 200-day positions QLTY to retest the 2012 high near $14.
QLTY is a great company and an undervalued stock. The shares trade at less than 8 times 2013 EPS of $1.29, making it one of the cheapest stocks in the transportation sector. Though there will be some bumps along the way, expect QLTY to motor to $14 over the next several months.
Equities mentioned in this article: QLTY.