SodaStream (NASDAQ: SODA) may have its fair share of doubters, but this stock could pop.
Admittedly, I'm one of the disbelievers … or at least, I was.
Before I dove into it, I feared this company was a fad. Though that apprehension may have merit, the shares should move higher during the next 12-18 months as the company builds from its 5.5 million-consumer and 60,000-store reach.
As noted in a previous ChartWatch article, the shares jolted past a long-term resistance zone (blue line) in January. Volume was above average during the breakout, suggesting that this bullish momentum should continue.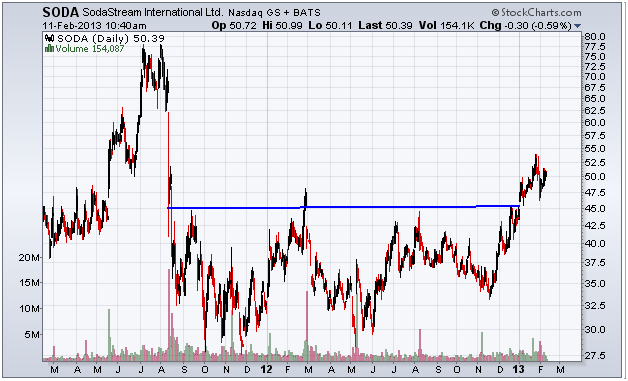 This chart shows the price of SODA shares along with an important support level to monitor.
But SodaStream is more than a chart. In fact, it's a unique and misunderstood investment.
As you can gather, most investors see the U.S. beverage market, which generated more than $264 billion last year, as SodaStream's largest opportunity. Thus far, SodaStream has done a great job of establishing market presence, as its machines are found in more than 15,000 outlets. However, it's yet to achieve mainstream appeal. The U.S. household penetration rate hovers around 1%.
That rate may improve because the company evolved its marketing strategy, going from demonstration-based to video advertising. The campaign will also promote the environmental friendliness of their machine. The biggest selling point is that the world burns 100 million barrels of oil each year manufacturing soda containers. That's 20 BP spills. Management expects this new style will help boost the company's U.S. household penetration to roughly 5%.
The increase of consumer awareness should help management achieve that goal, boosting income in the process. Moreover, the availability of CO2 containers is spreading. Gas exchange is available at roughly 10,000 shops, and this year the company plans to add another 3,000. This could be a huge earnings driver over the next five years.
The company makes most of its profit from consumables – such as CO2 cartridges. Its machine segment is not a strong moneymaker. So it's important for SodaStream to put its machines in households, then provide easy ways for owners to find and purchase the higher-margin consumables.
Analysts expect that sales from the Americas (mostly the U.S.) will increase from $48 million in 2012 to $67 million this year, moving that percentage of total sales from 33% to nearly 40%. Profits will expand as the Americas' market matures and pushes margins from 2% to exceeding 25% like in Switzerland.
Analysts are generally excited about 2013. Though the average price target is $50, 10 of 12 analysts believe it's a strong buy while the other two think it's a hold. The analysts' 2013 EPS estimate is $2.69, leaving the stock with an 18.5 P/E ratio. Given the likelihood for 25% annual EPS expansion during the next several years as the non-European segments mature, the shares should be trading at a healthier multiple, potentially leaving us with a price target north of $65.
Equities mentioned in this article: SODA
Positions held in companies mentioned above:
Don't Miss: ChartWatch: A Housing Stock You Haven't Heard Of