The appearance of a wedge pattern suggests that a big move is coming.
The problem for Amazon.com (NASDAQ: AMZN) owners is that the direction of the move is unpredictable.
Wedges (blue lines) are typically continuation patterns, meaning the breakout will take the direction of the prevailing trend. As mentioned in late May, AMZN is in a bullish trend. And odds favor a strong rally to the upside.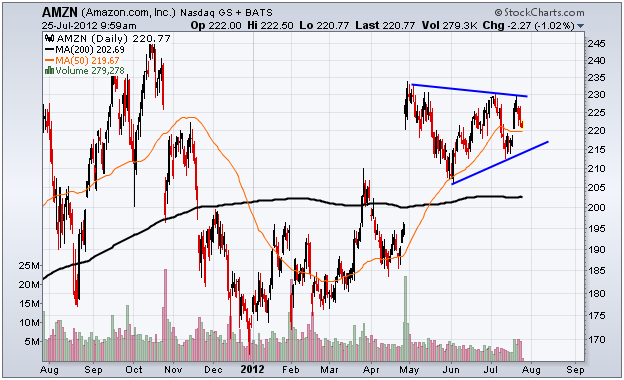 However, traders cannot be overly aggressive. Wedges follow the trend less than 60% of the time. Although odds favor a breakout to the upside for AMZN, the advantage is slim.
The shares will likely stay in the wedge pattern until earnings are announced this Thursday.
After earnings, the wedge pattern predicts that a big move is likely. The target is $252 on an earnings beat. An earnings miss would likely drive the shares down to $195.
The most aggressive approach is to take a long position in AMZN ahead of Thursday night's earnings announcement. While that's a risky trade, the odds are slightly advantageous for buyers.
A more conservative trade is to wait until after Amazon earnings. Then look for a move to one of the two price targets ($252/$195) based on the direction of the breakout. Bearish traders should also keep in mind that a breakdown this week should start a decline back to the December lows of $170.
Equities mentioned in this article: AMZN