JPMorgan (NYSE: JPM) shares are at a tipping point.
Investors looked ready to support the stock after a stronger-than-expected earnings report two weeks ago. Instead of rallying, the shares sank alongside all other bank stocks this past week.
I mentioned the strong resistance the shares would find at $36 (blue arrows). JPM also has support near $34. A breakout past either price will likely be the start of a new trend.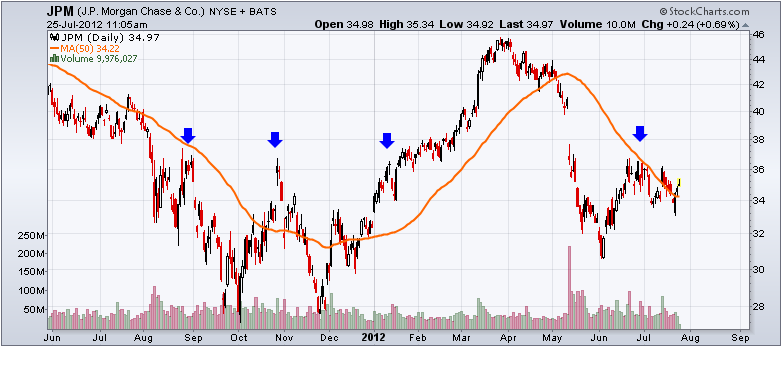 This chart shows the price of JPM shares along with an important resistance area for you to monitor.
Given the lateral price movement over the past month, a new trend would be a welcome development.
In May, the shares sank like a brick in water. But bargain hunters (thinking JPM was undervalued) appeared in June and quickly stabilized the shares.
The stock received additional support after few investors jeered JPMorgan earnings in July.
The lack of selling after earnings indicates that the worst is over (in terms of downside). Though JPMorgan's PR department has had to work OT this year, the effort produced results. Investors have been able to look past the recent risk management struggles.
The $34 level is important to stay above because it represents a level where the shares found support pre-earnings. A loss of $34 would indicate that buyers are not nearly as confident as they appeared to be earlier this month.
The loss of investor confidence could easily send the stock below $30.
The 50-day moving average (orange line) is also an important technical achievement. Many institutions accumulate near the 50-day moving average (if they are bullish about the stock).
The inability to hurdle the 50-day moving average indicates a lack of support from institutional capital. Stock rallies without institutional support are not sustainable.
Fortunately, for investors (and traders), JPM could accomplish both at once.
The 50-day moving average is near $34.25. Accordingly, all the shares really need to do is keep their head above that $34 line this week, setting up for a rally to $36 resistance next week.
The stock is in position to rally if it can do two things: stay above $34 and rally above the 50-day moving average. If it can accomplish both, I'd expect a rally to $39 over the next month.

Equities mentioned in this article: JPM.