Chipotle Mexican Grill (NYSE: CMG) may have further left to fall.
That's a scary thought for shareholders because the stock has already declined 37% from a $440 high this year. In fact, there could be another 10% decline ahead for the Mexican "fast-casual" franchise.
CMG appears to be hitting a wall after rallying from $240 in November. It's banging up against $280 (blue line), which was a previous level of support. Many times support levels turn into resistance areas after they are lost. So traders should expect the selling pressure to escalate as CMG approaches $280.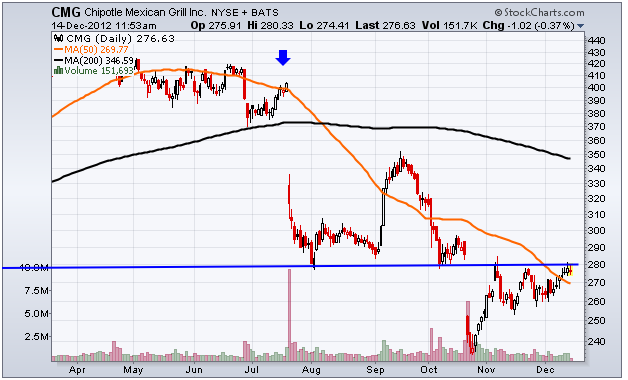 This chart shows the price of CMG shares along with an important resistance level to monitor.
In addition to the lateral resistance area, CMG will also have to contend with falling 50-day (orange) and 200-day (black) moving averages. Those trend lines have acted as rally stoppers and rally starters – something already noted in a previous ChartWatch report. In fact, that article noted to be very careful about buying the shares as they approached the 50-day moving average in July (blue arrow).
Aside from the technical diagnosis (which isn't very positive), the stock is overpriced. The shares trade with a P/E ratio of 31 and a forward P/E ratio of about 28. Realistically, CMG would be more fairly valued if both those ratios were cut in half. Chipotle isn't growing as fast as it once was and food cost inflation may crimp margins. I'll continue to purchase the food, but I can't recommend the stock until it can move above $280.
Equities mentioned in this article: CMG
Positions held in companies mentioned above: none