Alpha Natural Resources (NYSE: ANR) managed to beat forecasts earlier this week. The positive financial data sent the shares 13% higher.
Maybe using "positive" is a misnomer. The company reported a loss of $128 million.
But that's a huge improvement from a $793 million loss in last year's fourth quarter.
Some of the losses reported by coal miners and other energy companies are misleading. Companies have to write down the value of their assets. So when coal or oil declines, miners may have to account for that change by adjusting the value of their assets, which is an expense that hurts their income.
Coal has tanked during the past several years as many businesses took advantage of low natural gas prices. The fall in demand hurt the price of coal, and that took all coal miners down, too.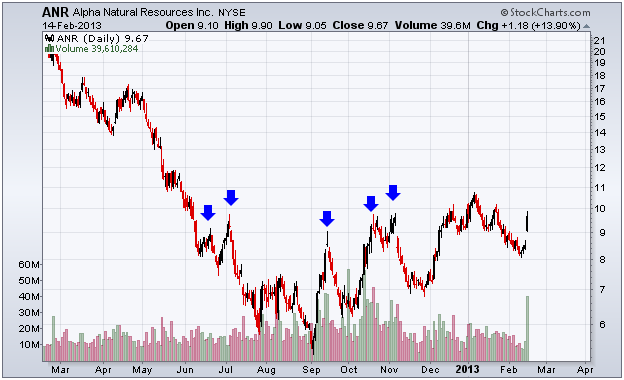 This chart shows the price of ANR shares along with an important resistance level to monitor.
Alpha Natural is one of the many miners that sellers clobbered as coal retreated. However, the shares are extremely close to a breakout that could send them above $14. The trick ANR needs to pull off is to climb above $10 resistance (blue arrows above).
ChartWatch previously noted this level in a January article. Though I was highly bearish on ANR, the stock is starting to look better. In fact, I've taken a position in preparation for an advance past $10.
I don't like ANR, and I don't like coal power – this will always be the case. However, I don't have to like the company to make money. I don't particularly like going onto Facebook (NASDAQ: FB), and that didn't prevent me, or my fellow ChartWatch members, from buying FB at $19 last year.
The $10 level remains a huge barrier for ANR. However, should they rise above this resistance level, which I suspect they're about to do, then the stock could very easily rip to $14.50 on nothing but pure bullish momentum.
Equities mentioned in this article: ANR, FB
Positions held in companies mentioned above: ANR, FB