Energy Select Sector SPDR (NYSE: XLE) is due for a pullback.
Though I have not reviewed this ETF in ChartWatch for a while, it's been a favorite of mine in the past. In fact, I recommended buying the shares of this energy ETF near the $63 support zone (blue arrow) in June. ChartWatch first noticed this support area in May.
Now that the shares have rallied 20%, it's time to start booking those profits. Though I continue to favor energy stocks as long-term investments, the sector (and this ETF) appears to have limited near-term upside.
The shares are at a long-term resistance area (blue line) that hasn't been too kind to buyers in the past. Sellers are very active in this zone. In fact, the last two times the shares reached this level, the results were sharp corrections to the tune of 11% and 24%.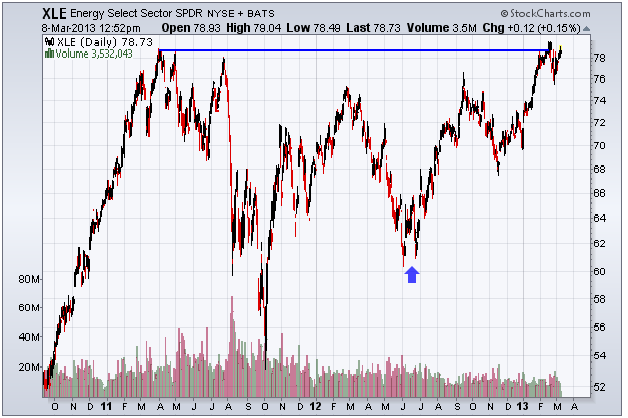 This chart shows the price of XLE shares along with an important resistance level to monitor.
So with oil having fallen back to $90 from $98, combined with this ETF's long-term resistance near $78, I'd expect the shares to come under pressure in the short term. Though I suspect the decline will be both fierce and sizable, it's unlikely to persist for an extended period.
The fundamental story behind energy continues to favor holding related stocks for the long term. So any pullback could be bought with confidence. I'd initially be looking for a decline to $75. However, given the magnitude of previous corrections, $71 is well within reach. Aggressive traders can initiate short positions today. But I don't view the probable pullback as a long-term shift in trend. Take profits quickly, then look to enter long below $73.
Equities mentioned in this article: XLE
Positions held in companies mentioned above: