Ford Motor (NYSE: F) needs to kick it into high gear.
The shares have been in trouble during the past two months after a disappointing earnings report shaved 15% from the stock. However, that decline has stabilized, and buyers need to keep it that way.
I predicted the decline would cease near $12.30 and that Ford would bounce quickly back to $13 in January. Thus far, that's exactly what happened. The shares dipped to as low as $12.10, and are now back above $13.
Though I had correctly timed the quick drop and bounce, I thought there was an outside chance the stock could rally to new highs. However, the $13.50 level has proven to be an area of strong selling pressure. So anyone long should consider ringing the register and taking the gain.
In fact, short sellers may want to begin a position. The shares have been incredibly responsive to the 50-day moving average (orange line) during that past 13 months. Since the stock is below this trend line, and seems to be finding resistance, the future direction favors more downside.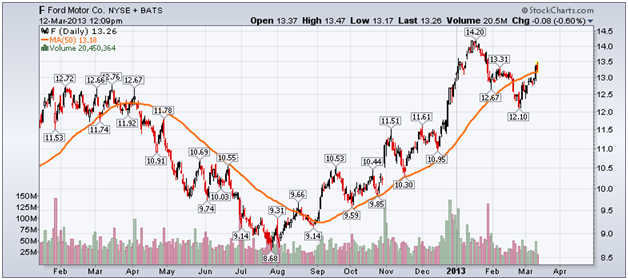 This chart shows the price of F shares along with an important trend line to monitor.

It's tough to reverse a position. There's always a bias to stay with the direction that previously brought profits – in this case a bullish bias. However, the trend appears to have changed for Ford, and bearish traders should take note.
The trade is easy: go short now with a stop around $13.59. The shares are at $13.25, so the stop represents a 3% loss. Meanwhile, the initial downside target is $12, which is 10% lower. If the indices begin to see some selling, Ford may sink below $12. So there could be a greater-than-10% decline heading Ford's way.
Equities mentioned in this article: F
Positions held in companies mentioned above: