Honda Motor (NYSE: HMC) appears to be taking a breather before driving to $48.
ChartWatch has been bullish on this Japanese car manufacturer for nearly a year. In fact, our most recent report called for a "quick ride to $40." The shares complied, cruising 18% higher during the next three months.
The stock remains inexpensive, trading with a forward P/E ratio of 13. It also comes equipped with a 2.5% yield.
Though I continue to offer a bullish long-term view for HMC, the shares appear to have hit the brakes in the short term. Buyers are having trouble overcoming strong selling pressure near $39. In fact, HMC hasn't been able to overcome that resistance zone during the last three months, despite the surging Japanese Nikkei.
So it's going to take some monumental news item for HMC to break out above this zone. A strong showing during earnings season would help. However, I believe HMC is at least another quarter away from that blockbuster quarter because of the prior slowdown in China, turmoil in Asia and the fairly nascent bearish trend in the yen.
Despite potential near-term weakness, I don't recommend selling HMC. In fact, you may want to think about adding more.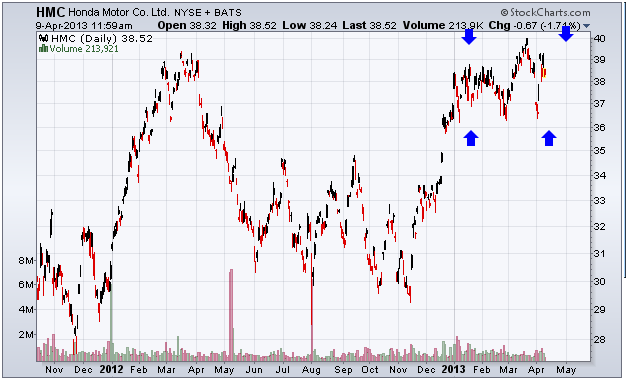 This chart shows the price of HMC shares along with an important price channel to monitor.
The $36 area should be an area of support as buyers have been active at that level numerous times in the past few months. And it's an area where sellers dominated in much of 2012. Very often previous resistance zones act as new support zones once they have been broken.
So I expect big buyers to exert themselves near $36 and sellers to apply pressure near $39, compressing the shares in a tight range for the next several weeks or months (blue arrows). However, I believe that HMC is a $48 dollar stock – given its 13 forward P/E ratio, the falling yen and a 2.5% yield. So I'd be a buyer at $36, and wouldn't consider selling that position until HMC clears at least $45.
Equities mentioned in this article: HMC
Positions held in companies mentioned above: