Honda Motor (NYSE: HMC) may finally be ready to motor forward.
The shares have been in a holding pattern for most of the year. Though the stock hasn't declined by a large amount, it cannot seem to garner any positive momentum.
However, that may change soon. ChartWatch noted the strong support area near $31 (blue line) in August. Despite a rocky market and an island territorial feud between Japan and China that threatened to decrease auto exports, the $31 area has supported HMC all year. Buyers must be very interested in owning the stock to support it so well during such a rough time.
Bullish investors have every reason to be optimistic, too. With a P/E ratio of 12 and a forward P/E ratio of 9.5, the shares are cheap. Moreover, HMC yields 2.9%.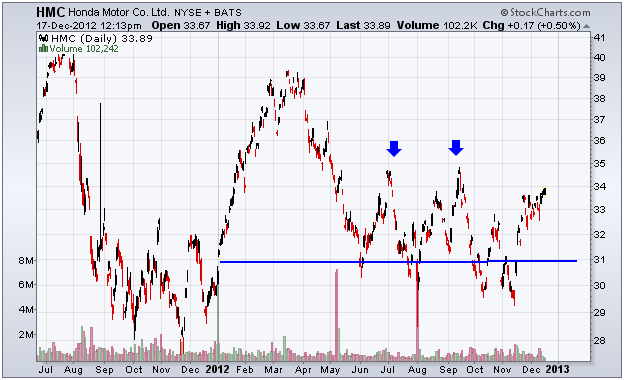 This chart shows the price of HMC shares along with an important resistance level to monitor.

In addition to the fundamental value of Honda, a recent victory by Shinzo Abe as Japan's prime minister could pave the way for future profits. Abe won the election in a landslide on December 16. Since his campaign focused on reinvigorating Japan's economy, car manufacturers like Honda stand to profit as policies that support businesses and consumer spending expand.
Though Honda shares are cheap, the stock still needs to overcome strong selling pressure at $35 (blue arrows). Sellers rejected rallies twice at that level during the past six months. Until buyers can bid the shares above that resistance zone, it's too risky to assume the stock is ready to begin a major rally. However, once $35 is broken, HMC should make a quick ride to $40. Over the next 12 months, the shares may easily hit $48.
Equities mentioned in this article: HMC
Positions held in companies mentioned above: none