I have long hated Facebook (NASDAQ: FB). Even after the shares were cleaved after its IPO, the stock still seemed overvalued.
Despite the Facebook fever that gripped traders this summer, I shied away from buying the stock. In fact, I advised ChartWatch readers that it was time to sell FB shares near $33.
Instead of Facebook, I offered several other stocks, such as Apple (NASDAQ: AAPL) and LinkedIn (NASDAQ: LNKD).
To wit, Apple and LinkedIn shares have risen an incredible 18% each. Meanwhile, Facebook slumped from $33 to as low as $17.55, nearly half its market value.
However, FB appears ready to rebound, as its chart has the makings of a bottom.
The $20 area (blue arrows) has proven to be a strong support zone. Though the shares briefly dipped below $18, buyers quickly bid the price back above $20. This shows a keen buying interest exists below $20, giving traders a natural stop loss.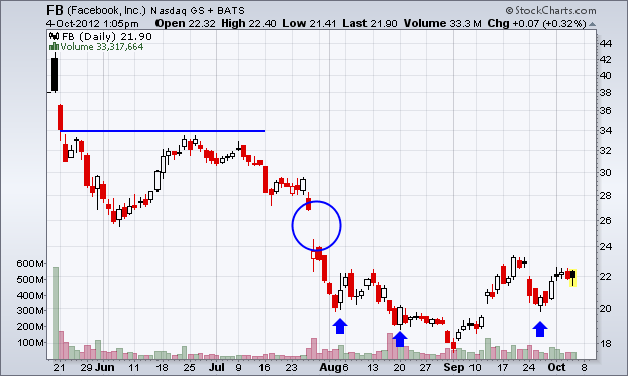 This chart shows the price of FB shares along with an important support area for you to monitor.
On the flip side, sellers are strong near the gap (blue circle) and near $33 (blue line). The bottom portion of the gap is near $24 and FB challenged that level twice last month, only to be turned away both times.
If it weren't for a Barron's article calling for a decline to $15, the stock would have likely taken $24 resistance out in September.
Though the Barron's piece blasting Facebook spurred a 10% decline from $22.86, the shares found support at the blue arrow, then found their way back near $22.
Together, the blue arrows form a nice double-bottom formation that should provide the momentum to take FB through $24 and back up to $28 (top of the gap resistance).
With any luck, CEO Mark Zuckerberg will report a solid quarter and guide higher as Facebook ramps up mobile revenue.
Facebook has more than 540 million monthly mobile users, yet it makes no money off them. Facebook management understands that this needs to change … and it will.
The future looks much brighter for Facebook than it did three months ago. Though I believe AAPL and LNKD are better companies, Facebook shares have more potential upside at this time.

Equities mentioned in this article: FB, AAPL, LNKD