Yahoo! (NASDAQ: YHOO) is off to a fast start in 2013, driven mainly by hopes that recently appointed CEO Marissa Mayer will fulfill her high expectations.
She's already done a wonderful job. Though revenue was flat from 2011 to 2012, net income surged to $3.9 billion from $1 billion during the same period. The stock is up nearly 25% this year, and it's climbed from around $14 to $24 in seven months.
Recent results have also been solid. YHOO reported an 11.6% sequential and 48.7% year-over-year increase in earnings for the first quarter. Revenue, however, was down 6.6% from last year. Investors apparently chose to focus on this decline, as YHOO plunged 4% following the announcement.
However, the shares recovered and finished only a percent lower. Moreover, the stock has risen to a level that's higher than where it traded before earnings. This suggests that investors overreacted to the sales miss, and YHOO could be ready to notch another new rally high.
The shares have spent a lot of time in the $23 vicinity (blue circle). And the fact that the shares found support and rallied from this price suggests that investors were buying.
Additionally, volume has picked up dramatically near the $23 region (blue arrows). This is an important development because large volume is a sign that mutual funds are active. When volume is above average and the shares are moving higher, there's a good chance that mutual funds are buying as opposed to selling.
In addition to the mutual fund activity, YHOO should have very strong support near the 50-day moving average (orange line). Investors often will buy near the 50-day. Given that this trend line has been such a tough nut to crack since October, I'd expect it to continue to provide support to the bullish trend.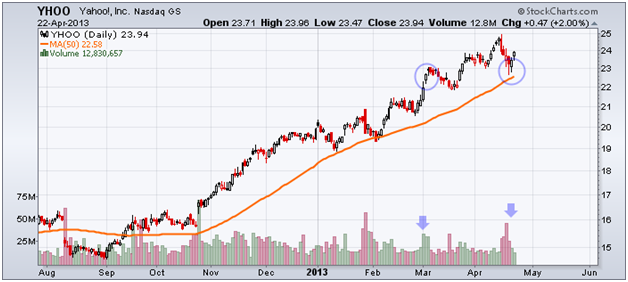 This chart shows the price of YHOO shares along with an important support line to monitor.
The next few weeks will be very telling for YHOO. It needs to rise above the previous highs near $25 while protecting the recent lows near $22.50 in order to continue its rally. Given the high volume and rising 50-day moving average, the odds favor another burst higher.
However, if that trend line fails to provide support, traders must exit the stock, while long-term investors should expect a retreat to $21. Though I like YHOO's long-term prospects, its short-term direction remains murky.
Equities mentioned in this article: YHOO
Positions held in companies mentioned above: YHOO