PNC Financial (NYSE: F) is likely to experience a 7% correction.
Though I've long been a fan of bank stocks, PNC isn't one that's on my buy list. In fact, I think you can short the shares.
The reason has nothing to do with the fundamentals of the company. The stock actually appears cheap based on its 10 P/E ratio, modest sales growth and 2.5% yield. It was also one of 14 banks to unconditionally pass yesterday afternoon's stress test. BB&T Capital (NYSE: BBT) was one of two banks to fail the test, and I recommend shorting them, too.
But for this quick trade, financials or stress test results won't matter too much.
PNC is back up against a potent resistance area near $66. The stock has risen to this level four times in the past year, and on those occasions sellers quickly prevented the shares from rising further. In fact, on each of those four occasions (blue arrows), sellers reliably dragged the price back down to the 50-day moving average (orange line).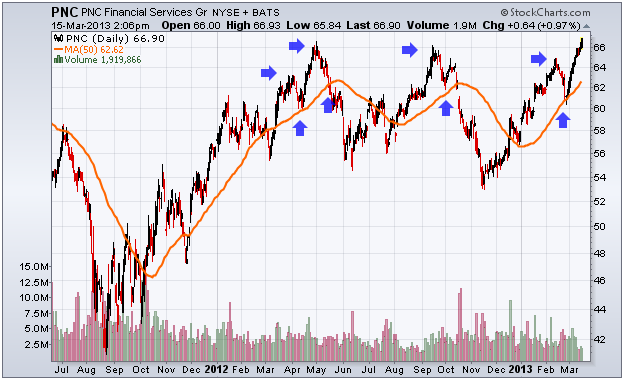 This chart shows the price of PNC shares along with an important trend line to monitor.
Maybe the fifth time will be the charm for PNC. However, I'm more inclined to side with the bears on this trade, especially because I believe most stocks – PNC included – are in dire need of a healthy pullback.
The initial downside for this trade is the 50-day moving average. Note that this trend line is increasing, so the price target will change from day to day. Right now, the expected downside is around 6% to 7%. However, also note that in two of the instances the 50-day moving average did not provide support. And during those pullbacks, PNC declined below $56, or 15%.
Though it might be a bumpy ride, PNC appears to be heading lower. Also, the risk is small, which is why I like this setup. Ford (NYSE: F) has a similar trade-off. Keep those stop losses tight near $67.20, especially because the indices are white hot. But odds and risk-adjusted return favor trading PNC on the downside.
Equities mentioned in this article: F, BBT, PNC
Positions held in companies mentioned above: PNC, BBT