The Dow Jones Industrial Average's longest winning streak in 17 years may be just a couple hours from coming to an end.
After rising for a 10th consecutive day on Thursday, the index was down 41 points as of 2 p.m. on Friday. If that holds, it would end quite a run.
The last time the Dow rose for 10 straight days was 1996.
The streak began on the first day of March. During that time, the Dow has added nearly 500 points – a difference of more than 3%. For the year, the index is up 8.4%.
The run has pushed the Dow to new heights. At 14,539 entering the day, the index has never been higher.
As is usually the case when stocks are in uncharted territory, investors are holding their collective breath, bracing for a huge pullback. While that may still happen, consider this: the Dow has hit a record high four previous times in the past year. On each occasion, it's pulled back – only to rise higher still within a matter of months.
Perhaps this one-year Dow chart will comfort you: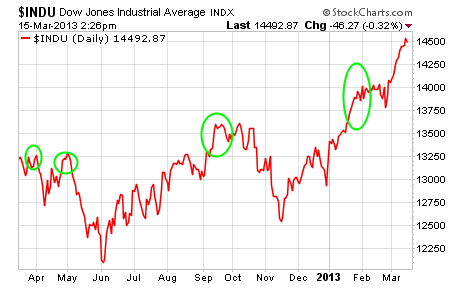 So even if today is the beginning of an extended pullback, don't panic. Stocks have proven to be incredibly resilient over the last 12 months.