Silver investors breathed a sigh of relief in August after the metal rebounded from key support at the $27 level.
Readers of ChartWatch were ready for that move in June. Back then, in a silver themed article, I wrote, "If silver can stay above $27.50, it will likely rally another 35% to $40."
Thus far, silver has rallied to $32.33, fueled by rumors of money injections from the Fed. Investors fear that additional bond purchases by Bernanke and company will cause inflation. To protect investments from inflation, fund managers buy precious metals – such as silver – as a store of value.
Support near $27.50 (dashed line) is sturdy and buying has been active there since November 2010. This strength has been enough to protect silver from a major decline, and it's provided a foundation for a rally back to $35 (lower blue line).
However, only a bond-purchase program announcement is going to cause silver to rally past $35 resistance. Should a program be announced, then silver is likely to burst higher toward secondary resistance (higher blue line) at $40.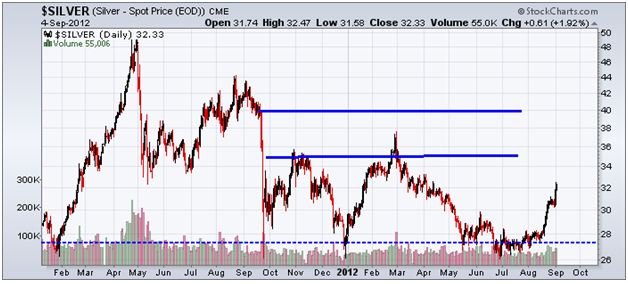 Because of the recent charge higher, silver prices are over-heated. However, short-term pullbacks below $30 offer a fantastic entry point.
Investors who desire silver exposure will want to explore iShares Silver Trust (NYSE: SLV). The Trust is an ETF intended to mirror the price of silver in the futures exchange.