SodaStream (NASDAQ: SODA) continues to offer investors growth, but the stock has lost its fizz in recent sessions.
ChartWatch wrote about the stock in January after the shares eclipsed a resistance level at $45 (blue line).
SODA had been trapped under $45 for about 17 months. Then the shares blasted through this level on better-than-average volume in January. Such a breakout was an indication that investors were more bullish than usual about the stock ahead of a February earnings release.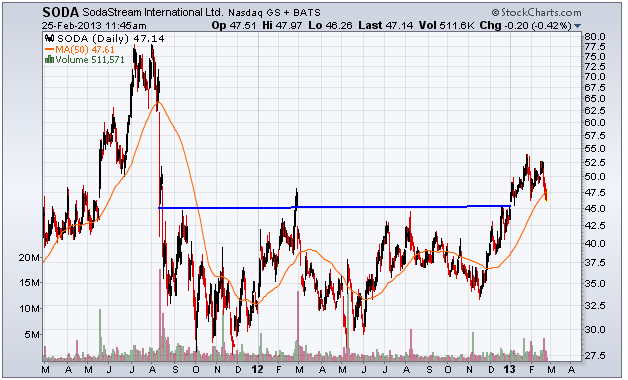 This chart shows the price of SODA shares along with an important support level to monitor.
However, the company did not report the strong financials investors were hoping to see. Curiously, SODA reported numbers that beat Wall Street's fourth-quarter EPS and sales view. Moreover, the outlook also exceeded expectations. Yet the shares dipped 7% early after the report.
There may have been some concern with the gross margin. The company reported gross margin of 54%, which was slightly below expectations. Also, refill unit sales were flat. SODA makes most of its money from consumables. So the flat refill sales may have been of concern to investors. Flat consumable sales could indicate that people are buying the machines, but not using them enough. On the bright side, machine sales eclipsed 3.5 million and the company reported one million sales in the fourth quarter alone.
Let's not forget that the company posted record sales and earnings in 2012. Revenue increased 51% to $436 million and earnings increased 60% to $43.9 million. Analysts expect SODA to report $522 million in revenue and a $2.78 EPS this year, leaving the shares with a P/E ratio of 17.
Not only does the stock appear cheap, it's also at an important support level. The shares have fallen back to the previously mentioned breakout zone at $45. Typically, old resistance will become new support. Additionally, the rising 50-day moving average is at $47.61 (orange line). Stocks are considered to be in an uptrend when trading above their respective 50-day moving averages. That trend is stronger when the 50-day is rising, which is the case for SODA.
Equities mentioned in this article: SODA
Positions held in companies mentioned above: