ABB Ltd. (NYSE: ABB) offers investors a nice mix of stability and growth.
Though the stock is volatile, its up and down moves are somewhat predictable. Several times since 2010, the shares have traded up to $21, only to be met with selling and driven back to $16. The stock managed to eclipse $21 in 2011. But it quickly fell back down to $16 within a few months.
So the price range for ABB is usually predictable. It's a big range, encompassing 30%. But it's been easy to pick out the optimal buying opportunities during the past three years.
Moreover, investors managed to collect a solid yield while the shares moved sideways. The current yield is 3.1%, and it's dividend increased every year since 2009. So even if an investor missed the buying opportunities near $16 (and the many 30% rises to $21 resistance), the yield would have supplied a satisfactory gain.
In addition to the stability, the stock also offers earnings growth. Analysts expect EPS to increase to $1.50 this year from $1.18 in 2012. EPS is expected to climb to $1.65 in 2014.
ABB is a diversified industrial machine and electrical equipment manufacturer. It has a huge global business, and the company is valued at more than $52 billion.
Moreover, the company is involved in one of the hottest trends in technology: robots. Many people believe that machines will replace man in manufacturing facilities.
ABB's robotics division represents roughly 18% to 20% of total revenue in any given quarter. And CEO Joseph M. Hogan hinted during a February conference call that the robotics business had a very good fourth quarter.
In addition to its robotics revenue, the company also generates roughly 50% of total sales from late-cycle businesses. Late-cycle businesses are companies that excel during the latter part of a recovery, and typically include utilities and other slow-growth industries. This is good news for ABB because many investors feel that the global economy is in the later stages of a recovery right now.
The combination of growth and stability is likely why investors bid ABB through $21 resistance (blue arrows) this year. This breakout is notable because that resistance level has been so potent. Should ABB remain above this prior resistance point, investors have every reason to believe that this stock will rally to new highs.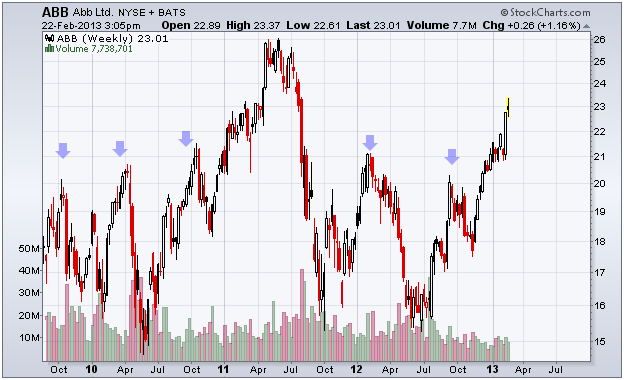 This chart shows the price of ABB shares along with an important former resistance level to monitor.

Equities mentioned in this article: ABB
Positions held in companies mentioned above:
Don't Miss: ChartWatch: A Strong Insurance Stock