Google (NASDAQ: GOOG) is finally receiving the attention that it deserves. Though I've been a huge fan of Google for years, I've been more emphatic with my positive view in recent months.
In a June ChartWatch article, I recommended readers buy the stock near $565 and attached a $630 target price to it. By August, the stock had exceeded the $630 target. So I upped my new target for GOOG to $700.
The shares proceeded to rise beyond $700 by October, hitting new all-time highs. Despite that huge rally from $556 to $770, GOOG wasn't receiving much attention. The Street was too concerned with Apple (NASDAQ: AAPL) and its own meteoric rise from $358 to $679. Contrary to the experts' analysis, I made it clear GOOG would reach $1,000 before AAPL.
Google is one of my favorite companies, and it comprises a significant portion of my personal investment account. So it was frustrating to see Apple receive attention while Google sat by the wayside.
Not only do I own GOOG in my account, readers of my Top Stock Insights service have purchased it several times in the past – each time for at least 32.5% in profit. The most recent entry (see chart below) occurred after the stock dropped 8.5% following an earnings announcement. I quickly informed my readers to expect a decline to at least $650 before a turnaround (blue box), and an opportunity to jump back into the shares. GOOG declined to as low as $636. But it turned, and quickly exceeded $800 for the first time.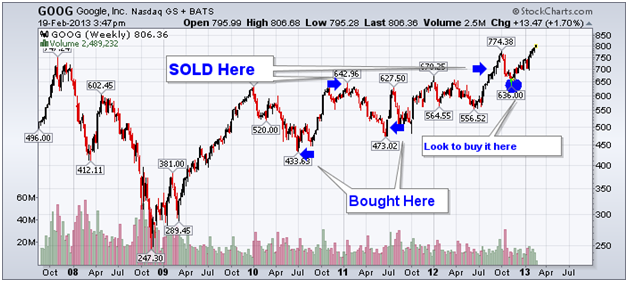 Though a pullback may be near again, GOOG has much further to climb.
The shares are undervalued. Though the trailing P/E is 20, GOOG's forward P/E is only 15 times next year's expected EPS of $53.44. The S&P 500 has a P/E above 18, GOOG's industry has an average P/E of 26 and GOOG normally has a P/E near 21. All this suggests that GOOG is undervalued based on its future EPS.
The analysts are way behind, again. Though 25 of the 38 analysts rate GOOG as a buy (none with a sell), the average price target is only $830. In fact, the highest target (as of February 20) is $950. So the most optimistic price target values GOOG at only 17-times 2014 EPS. That's absurdly low, especially considering the company boasts more than $145 per share in cash equivalents. Meanwhile Apple has fallen off a cliff and 72% of analysts (34 of 47) rate it as a strong buy.
Stepping back from valuation metrics, GOOG remains a strong investment. The company dominates web search and online advertising. They're also a major player in mobile advertising, which eMarketer expects will be an $11.1 billion industry next year. GOOG represents about 55% of that industry and 94% of the mobile search market. So I expect GOOG will dominate mobile in the same way it dominated PCs during the past 15 years … both here and abroad.
Though GOOG is likely to be a tremendous investment, I've found three other stocks that will benefit from the growth in mobile devices. In fact, I'll be releasing this report to my Top Stock Insights readers this very week. Click here to start your free trial to Top Stock Insights and discover three growth stocks of the future.