PowerShares DB U.S. Dollar Index ETF (NYSE: UUP) sits at an important support level.
Despite two rounds of quantitative easing by the Fed during the past two years, the U.S. dollar has given up little ground. In fact, the dollar is virtually unchanged during that time.
Of course, the EU has had to slash interest rates and bail out fragile countries through money printing, too. So the euro weakened at the same rate as the dollar.
Then Japan decided to take a hard stance on deflation by setting a 2% inflation goal. Leadership all but vowed to do whatever it will take to get there. So the yen has declined. In fact, the yen is down more than 20% since September. That's a huge move for a currency, especially one from a developed country.
The yen weakness has offset recent euro strength. And the result has been a sideways move for the dollar.
This horizontal trend isn't too surprising because the dollar is in a zone (blue) where it's found support during the past 16 months. Though I expect this region to support the dollar, a large decline could unfold were it to break.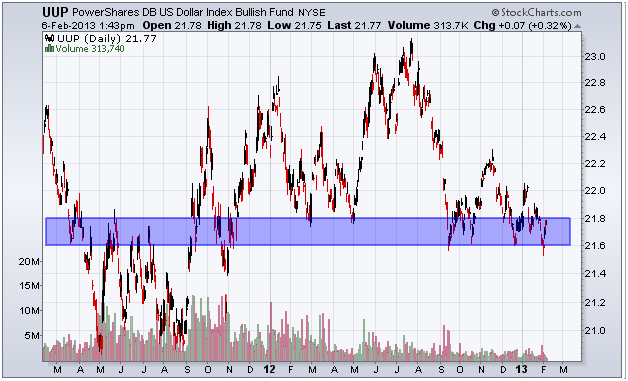 This chart shows the price of UUP shares along with an important congestion level to monitor.
The next support area is about 3.5% lower. However, there's almost no support for the dollar after that.
I find a large slide unlikely, especially considering the potential for weakness from the euro and yen. In fact, I'd bet the dollar finds support and surges from its current level, surprising many traders.
A large pullback in the euro will be the first sign that the dollar is poised to rebound. And if that happens, equities and commodities could tumble from their current prices.
Equities mentioned in this article: FXE, UUP, FXY
Positions held in companies mentioned above: