It is said that variety is the spice of life. When it comes to investment ideas, many investors like to hear both sides of the story so they can make an informed decision. In other words, variety of opinion is a good thing when vetting potential investments.
So when my opinion on an investment climate differs from that of my boss, Ian Wyatt, I usually find it's worth digging a bit to see why we're not on the same page.
Case in point: last week I received an internal company memo that Ian was recommending an investment highly exposed to Argentina. A little over a month ago, I recommended two investments in South America to Pay Dirt subscribers and specifically advised avoiding Argentina.
So I read Ian's report with great interest. As it turns out the only area on which we really disagree is our assessment of the political risk present in the country. The investment he recommends is extremely attractive in its own right, and in fact he laid out a compelling case that it becomes more so because of the political risk. You'll have to read the report to understand why.
But while I found the report compelling, it didn't change my opinion regarding Argentina. Why? Well, largely for personal reasons.
I love Argentina. I love the people and I had a blast in Buenos Aires. But I still don't want to invest any more money there. Part of the reason is that I have a personal stake in a gold and silver miner with assets in Argentina. I've followed with disdain as Argentina's government proposes hurdle after hurdle that makes life more difficult than necessary for this company.
As the third largest economy in South America behind Colombia and Brazil, Argentina is consistently growing and has relatively affluent citizens. But the country's finances are always a mess. And nationalization is always a threat.
Those aren't good signs for investors, as the Global X FSTE Argentina 20 ETF (NYSE: ARGT) has shown. It was one of the worst performing ETFs in the world in 2012.
I was in Argentina the last time the government defaulted on its foreign debt in 2001, and it wasn't a pretty picture. For a decade, Argentina had pegged the value of the peso to the dollar. But it wasn't a sustainable exchange. People began a run on the banks, withdrawing pesos and converting them into dollars.
Since dollars were what my friends and I had, we could live like kings. As the peso plummeted, inflation soared – hitting 10.4% in April 2002.
I could go on since Argentina has a fascinating history. And someday it will be a great place to invest more money, I'm sure. But for me, that time is not now.
The Heritage Foundation places Argentina 160th in the world in terms of economic freedom. An opaque court system, constant government intervention into the marketplace, poor fiscal management and declining property rights coupled with increasing corruption set the stage for continued struggles in Argentina.
President Cristina Fernandez de Kirchner is more apt to favor the policies of Venezuela's Hugo Chavez than those of Chile's Sebastián Piñera Echenique, in my opinion.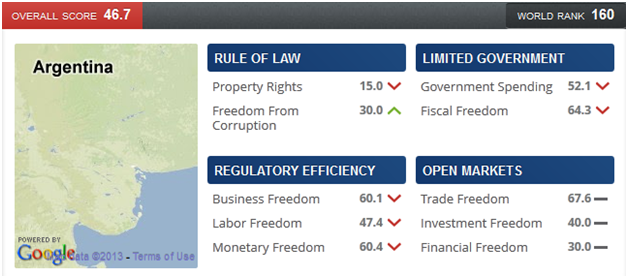 On the other hand, as Ian states in his report:
"Argentina's government is frequently schizophrenic: bouts of stupidity are countered with periods of shrewdness … Under former president Nestor Kirchner … Argentina paid off its debts and invested heavily in infrastructure [and] took a largely hands-off approach to the economy. Not surprisingly, foreign investment flowed into the country … Cristina Kirchner also needs to be painted in a proper light. She is a political opportunist … In other words, today's incarnation of Argentine populism will pass … when exceptions are low, only a smattering of positive news is needed to get that share price moving higher."
Like I said earlier, Ian presents an extremely compelling case for this particular investment in Argentina. It will be spot on for some people, and not for others, just like my recommendations in South America.
It's true – variety is the spice of life.
My favorite investment in Argentina remains a plane ticket to Buenos Aires. That's an investment that will earn a nice return in terms of cultural experience.
By the way, if you are interested in reading more about Ian's recommendation in Argentina you can get more information here.
And if you're interested in learning more about investments that I like in South America, you can find more information here.
Good Investing,
Tyler Laundon, MBA