Argonaut Gold (Toronto: AR) may have reached an optimal entry point before it rallies to a new high.
Gold miners have suffered this year. In fact, the last three years have been agonizing for most miners.
The Market Vectors Gold Miners ETF (NYSE: GDX) is down around 9% this year and is roughly flat from 2010. This is especially surprising because gold is up about 1% and 55%, respectively, during the same periods. Gold miners have been one of the real duds of the equity and commodity rally.
The rise in gold and fall by gold miners confused many gold bugs. Their confusion is understandable. After all, how could gold rise, yet gold miners – that presumably benefit from gold increasing – go down? It really comes down to cost. Gold has gone up, but the costs to mine it have as well. In fact, the rise in costs outpaced the rise in gold (for some).
Though gold miners have trended lower, Argonaut has done the opposite. The shares are worth about twice as much as they were in 2011. This gain is impressive in its own right. However, that ascent is more amazing considering the gold mining industry performed so poorly.
Argonaut is clearly a favored stock among a crowd of weak competition. Institutions have supported the shares as they sold its peers. The repeated bounces (blue arrows) off the 200-day moving average are evidence of this buying activity.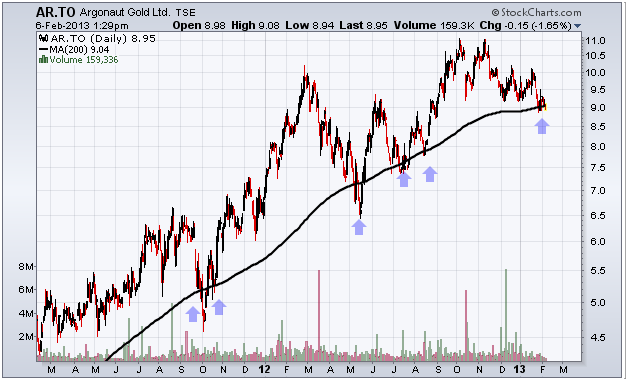 This chart shows the price of AR shares along with a trend line to monitor.

This accumulation around the 200-day moving average (black line) is important to note because the shares find themselves at this trend line right now. Based on the past support at the 200-day moving average, investors should expect this trend line to hold, resulting in another rally to new highs.
Equities mentioned in this article: AR, GDX
Positions held in companies mentioned above: