Gold miners are not nearly as safe as the product they sell.
Unlike gold, miners are subject to operational hassles such as strikes, equipment failure, flooding and basic mine maintenance.
In addition to all those challenges, gold miners still must please the shareholder … not an easy task.
Shareholders are often impatient. They tend to scram at the first sign of danger.
This was the case last week, as investors fled Gold Resource (AMEX: GORO). As a result, the shares plunged more than 30%.
Given the magnitude of the decline, did they sell too rashly?
What prompted the sell-off? A press release warned that upgrades and ventilation expansions resulted in production delays at GORO's Arista mine. Accordingly, management guided annual gold production 15% lower, to a range of 100,000 to 120,000 ounces.
GORO's management had expected annual production to increase from 140,000 to more than 200,000 ounces by 2013. Investors fear that the recent delay could push that target back until 2014.
At this point, investors don't know what future production streams will look like. And GORO won't release quarterly earnings for another week.
Because GORO is a fledgling miner, investors are bracing for the worst. Any decrease in ore mined for such a small-time gold miner could translate into negative earnings.
The problem is that official numbers won't be released for another few weeks. Until then, investors are left guessing the damage. That uncertainty resulted in a massive decline last week and could lead to additional selling this week.
Given the amount of public information available, is it possible that GORO descended too far too fast?
Gold remains a valuable asset. And I don't expect gold to lose its appeal anytime soon either.
Additionally, Gold Resource's generous dividend program pays shareholders 2.8% each year in either cash or gold. Most gold miners do not offer a dividend program.
Looking at chart below, the $18 price area acted as failsafe (blue arrows) support on several occasions last year. Look for this area to stabilize GORO again in the weeks ahead.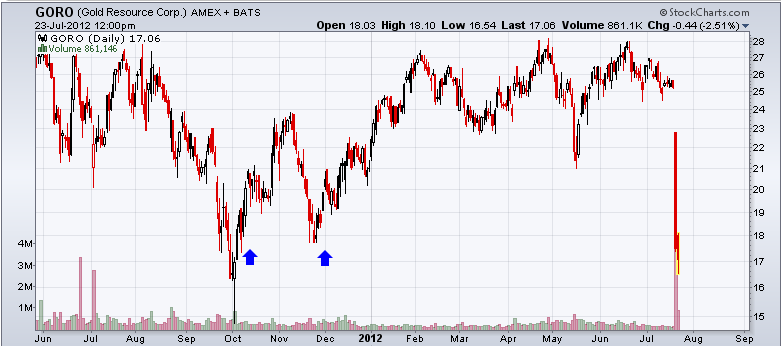 This chart shows the price of GORO shares along with an important support area for you to monitor.
Equities mentioned in this article: GORO